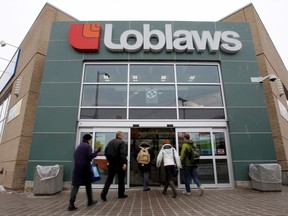 Article content
A Giving Tuesday campaign from Loblaws is Giving People Cause For Concern.
Article content
The corporation used the recent Giving Tuesday as an opportunity to ask customers to donate their Optimum loyalty points as part of a partnership with some local food bank charities, suggesting customers who collect PC Optimum points donate them directly to partnered charities.
Article content
The idea didn't land with everyone and left some social media users fuming.
"If you want to make a difference, reduce your prices. Then those of us that have recently been stretched beyond our means will be able to support essential programs like food banks and be able to help others in need … This is on you, Loblaws. Do not put this on your customers without first considering how you can make a considerable difference by lowering your prices," posted LinkedIn user Sharon Bauer.
Article content
Twitter user @susanlorr echoed that sentiment.
"Appreciate @loblawco, a billion dollar company making record profits, jumping into my emails, they've made it possible for me to donate my PC Optimum Points to their organization, so they can support food banks. Stop gouging Canadians," she wrote.
Article content
Added Twitter user @jowenclassey: "Record breaking profits of food industry corporations like Loblaws Inc. are one of the main contributors to growing food insecurity. Want to really make a passionate difference? Slash your retail prices and increase your staff wages, and that would be a start!"
Article content
In announcing the campaign, Loblaws said it was "proud of the many charitable things we do to help Canadians live life well, but we'll leave all that for another day. Instead, and for the first time ever, we're handing over our PC Optimum platform — a direct line to millions of Canadians like you — to our partners at Food Banks Canada and Second Harvest."
No Name Loblaws products price freeze announcement falls flat

Loblaw to eliminate single-use plastic shopping bags from stores by early 2023
The supermarket chain said from Dec. 2 to Dec. 24, customers can donate to the holiday food drive at local Loblaws and the chain will match donations up to $100,000.