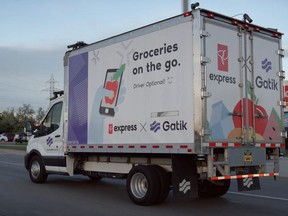 Article content
Loblaw Co. has five trucks driving themselves around Toronto.
Article content
The grocery giant announced Wednesday that they now have five driverless trucks making e-commerce deliveries in the GTA, according to a press release issued with Silicon Valley tech outfit Gatik, their partner in the project.
Article content
The trucks follow a regular route between a fulfillment centre and five retail locations in the GTA, transporting online grocery orders for PC Express. The routes are predictable, fixed and repetitive;  the trucks gather useful data en route that will be used for safety purposes.
The move to driverless trucks was preceded by extensive safety testing.
The trucks, guided by cameras, laser sensors and sonar, have been in a trial phase since January 2020 and completed 150,000 autonomous deliveries in that time — with a perfect safety record. 
Article content
Those deliveries still had a safety driver on board for backup if required.
In August, however, a fully driverless truck made the trip — and as of their announcement today, made history with that autonomous run.
The safety driver is no longer necessary.
Recommended video
The announcement Wednesday from Loblaw says autonomous delivery will allow the company to undertake more frequent trips via more routes, with an eye to a safer and more sustainable supply chain.
"Being the first in Canada with this technology and deploying a fully driverless solution is exciting and illustrates our commitment to making grocery shopping better for customers," said David Markwell, Loblaw's chief technology and analytics officer.
Gatik posted video on social media Wednesday showing the trucks in action.
Article content
In 2021, Gatik became the first autonomous trucking company worldwide to remove the safety driver from a commercial delivery route on the so-called middle mile, moving goods for Walmart in Arkansas.
Gatik's Class 3-6 autonomous box trucks are being used in several markets including here in Ontario and in Texas, Arkansas and Louisiana.
As per the bottom line, removing a human driver from the equation also ends employer obligation on such items as breaks, sick days, holiday pay, medical coverage and other benefits.