B.C. Lions quarterback Vernon Adams Jr. returns to BMO Field for the second time this season on Saturday.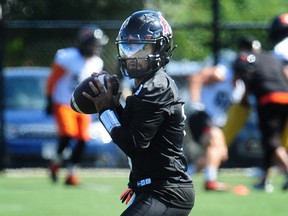 Article content
B.C. Lions (10-4) vs. Toronto Argonauts (8-6)
Article content
Saturday, 1 p.m., BMO Field
Article content
TSN/AM 730
Lions by 2.5
12 C, mainly sunny, 20 per cent chance of rain, winds gusting 27 km/h
STATS PACK
B.C. … Argos
Points For
30.4 (3rd) …. 23.9 (6th)
Points Against
22.3 (2nd) … 22.9 (3rd)
Rushing
96.8 (5th) …. 77.6 (9th)
Passing
325.7 (1st) …. 278.5 (5th)
Net Offence
407.2 (1st) …. 333.1 (7th)
Against
321.1 (1st) … 356.1 (4th)
FIVE THINGS TO WATCH
1. UP AND ADAMS
Vernon Adams Jr. returns to BMO Field for the second time this season; his first visit was short-lived when he started for the Montreal Alouettes and then was pulled for Trevor Harris in Toronto's home-opener. Adams Jr. is at his best when he's moving the pocket and making sound decisions when operating out of the pocket. He's no stranger to playing the Argos from his days in Montreal. Adams Jr. can't force throws into tight windows.
Article content
2. MAC IN THE HOT SEAT
McLeod Bethel-Thompson threw two picks in Toronto's loss last week in Calgary, including a game-changing pick six. He's on the cusp of reaching 4,000 passing yards on the season but has also been picked off at least once in six straight games. It goes without saying he needs to be clean.
3. NO BMO-MENTUM
Argos stage their first home game since Aug. 26 but it coincides with Game 2 of the Blue Jays' wild card series with Seattle. Complicating matters is a Maple Leafshome game, albeit it's the pre-season. In a crowded sporting market, the Argos can't catch a break; even in the best of times, a visit by B.C. doesn't draw much of a crowd. At last count, some 11,000 tickets had been sold, but it remains to be seen how many fans actually show up.
Article content
4. BETTS ON IT
As the Leos continue to pile up the sack total, the work of Matthieu Betts hasn't gone unnoticed by the opposition, even when he's not getting to the quarterback. His seven sacks are a career, but Betts enters the day having gone four straight games without recording a sack. Needless to say he's overdue
5. RHYMES WITH WINNING
Dominique Rhymes lit up the Argos in late June when he went off for 143 receiving yards and two TDs in B.C.'s 44-3 blowout win. He's surpassed the 1,000 receiving mark for the second time in his career. Once known as a journeyman, Rhymes continues to make a strong case to be named an all-star.
KEY MATCHUP
Lions RB James Butler vs. Argos LB Henoc Muamba
Adams Jr. is a much more productive quarterback when a run game gets established. Butler rushed for 89 yards in a home win against Ottawa, the most since opening week when Butler exploded for 108 yards over Edmonton. He should get the ball early and often. Muamba produced two interceptions last week in Calgary; he'll need to be on point when Butler has the ball in his hands.
Article content
NOTEWORTHY
Three of the league's top 10 receivers in yards-produced-per-play for the Lions. At No. 11 is Toronto's Kurleigh Gittens Jr., one of the best Canadians in the league and among the best receivers who needs 164 receiving yards to record his first-career, 1,000 yard season … Leos coach Rick Campbell has experienced his share of heartache at BMO, but he also experienced the ultimate goal when he led Ottawa to its upset win over Calgary in the 2016 Grey Cup. More recently, Campbell was on the losing end of a bitter OT loss to the Boatmen last year in late October when B.C.'s kicking game cost the visitors a win as the home side secured a playoff berth. Including last year's visit, B.C. has won four of its past five games against the Argos … B.C.'s Kevin Francis and Calgary's Silas Stewart are tied for the league lead with 17 special teams tackles … With stud LB Wynton McManis (knee) sidelined and unlikely to play for the balance of the regular season, the Argos plan on rotating Canadian Trevor Hoyte and American Jonathan Jones at the weak side slot. Hoyte filled in for McManis last week and started as a rookie in 2021 when injuries hit the Argos' linebacking unit. Jones has appeared in two games for the Argos this season, mainly on special teams.
OUR TAKE
Argos 23, Lions 19
The Argos are desperate to shake off last week's humbling loss to the Stampeders. B.C. is the more explosive team, but Toronto appears to be the more desperate club knowing the Als are only one game back of the Argos for first in the East. Should be an entertaining game.