Nathan Rourke gets back into the lineup for the B.C. Lions, looking to knock some rust off against the Winnipeg Blue Bombers.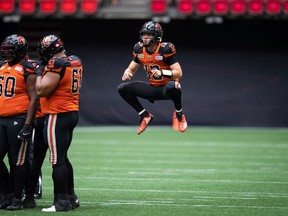 Article content
The B.C. Lions travelled to Winnipeg on Thursday as they get ready to face the Blue Bombers in the regular-season finale for both clubs in the lone CFL game Friday.
Article content
It's the last game for the Bombers for a little more than two weeks, as they host the West Division Final on Nov. 13 — a game the Lions hope to be playing in after they host the Calgary Stampeders in the West Semifinal on Nov. 6.
Article content
Here are some relevant numbers as the regular season comes to a close:
---
NEXT GAME
Friday
B.C. Lions vs. Winnipeg Blue Bombers
5:30 p.m., IG Field. TV: TSN. Radio: AM 730.

---
0: We said this weekend's games mean nothing in the standings, and we meant it. Not a single one of the four games being played Friday or Saturday can impact the playoff picture in terms of matchups or locations. It's the first time since 1996 that all games and sites have been set before the final week.
Teams will elect to rest players or give them just enough playing time to knock off the rust or keep them fit.
Article content
The Lions, for example, will start the freshly activated Nathan Rourke and the Bombers will roll out Zach Collaros — who sat out their meeting two weeks ago in B.C., as first in the West had already been locked up. Neither will play much, with Rourke getting the first quarter and nothing more in his first game back from injury, while Collaros isn't expected to finish the game either.
Article content
Cornerback T.J. Lee and receiver Bryan Burnham will get the week off to heal their veteran (re: older) bodies, while the Bombers will shuffle their suddenly healthy lineup as well.
Receivers Greg Ellingson, and Drew Wolitarsky, along with defensive lineman Jackson Jeffcoat, are back from injury. But they've also shifted Adam Bighill, at least according to their depth chart, to weakside linebacker, with Shayne Gauthier taking his spot in the middle.
"There's eight teams this week that are playing a game that doesn't matter in the standings and you can't just reshuffle your whole lineup," said Lions coach Rick Campbell. "If there's a few guys that (rest is) valuable for them to help them get healthy for the playoffs, we'll do it. But you can expect that most of the guys will be lining up and playing.
Article content
"I've been down this road a few times now, on both sides of the deal. You got to go out and play good football. I fully expect Winnipeg to play their guys starting the game.
"I expect a big crowd, I expect it to be loud. It's not a pre-season deal … The safest way to play is to play fast and play hard … and that's what I expect."
Article content
.880: That's the combined 2022 win percentage (22-3) of Collaros and Rourke. There's just one game in league history that had a higher mark (.895) — and that came in 1966, when Hamilton's Joe Zuger (7-1) visited Ottawa's Russ Jackson (10-1).
34: Number of yards Lions running back James Butler trails CFL rushing leader Ka'Deem Carey heading into the final game of the regular season. The Stamps' running back had 75 yards last week against the Riders — who average the second-most rush yards against (106.8) — and visit them again this week.
Butler had a career-high 141 yards last week against Edmonton, and while the Bombers give up a respectable 91.1 yards per game, the Lions' tailback gashed them for 104 yards two weeks ago.
Article content
11: Number of yards Lions receiver Dominque Rhymes trails Winnipeg's Dalton Schoen for the CFL receiving yardage title. Rhymes' career season high (1,346) includes a two-touchdown, 136 yard performance against the Bombers in Week 5.
Schoen (1,357, 15 TDs) is looking to become the first rookie to top the receiving charts since Curtis Marsh had 1,560 yards for Saskatchewan in 2000. B.C.'s David Williams had 1,468 yards and 18 touchdowns as a rookie in 1988.
Also lurking in the wings for the 2022 yardage crown is Montreal's Eugene Lewis, who has 1,303 yards.
3: The number of times the Lions have finished in second place in the West before this season (1977, 1986, 2016), leading to two "nevers," as listed by CFL statistical guru Steve Daniels.
Article content
• The Lions have never hosted the Stampeders in the West Semifinal before.
• In each of those seasons they finished second, they played — and beat — Winnipeg in the West semi. The downside is, they lost all three West finals after those wins.
Article content
4: Of their 21 playoff wins, just four have come against the Stamps (4-11) — and all of them were at home. All six trips to McMahon Stadium in the West semis have ended in defeat.
.545: Home might be where the heart is, but it hasn't been where the wins are in 2022. CFL teams have 42 road victories this season, a .545 average — the second highest in league history (.581, 1966).
1: There is just one team in league history to have won 12 games in a season and not hosted a playoff game. Edmonton did it in 2017, finishing tied at 12-6 with Winnipeg, but headed on the road having lost the tiebreaker. But they beat the Bombers in the West semi before losing to Calgary in the division final.
If the Stamps (11-6) win Saturday against the Roughriders, they'll join Edmonton in that unfortunate club.
The Checkdown: A home playoff-clinching win for the B.C. Lions, served by a Butler
---
More news, fewer ads, faster load time: Get unlimited, ad-lite access to the Vancouver Sun, the Province, National Post and 13 other Canadian news sites for just $14/month or $140/year. Subscribe now through the Vancouver Sun or The Province.