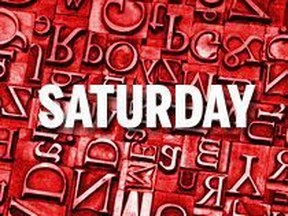 Article content
DIET PLAN
Re "L.A. school district blasted after claiming diet culture is based on oppression" (Denette Wilford, Sept. 15): Talking about diet and food is a great idea to foster healthy relationships toward nutrition. As a teen, I believe that proper exposure like this can start a ripple of conversation about eating habits. Frankly, I find it ironic that videos like these are put out by schools when all they serve in the cafeteria is junk or overpriced healthy food.
Article content
Vatsala Adavikolanu
Ajax
(It is critical to learn at a young age the importance of a balanced diet and treats in moderation are acceptable)
Article content
SYSTEM FAIL
Re "Lives 'altered forever'" (Michele Mandel, Sept. 24): The justice system in Ontario is not meeting the needs of Ontarians. In August 2018, a man driving 163 km/h in an 80-km/h zone was charged in the deaths of a mother and two children and one friend. Another daughter and passenger were seriously injured. In the courts after three and a half years, the driver was convicted of several offences in January 2022. Sentencing is scheduled for November. Why an 11-month delay to deliver sentence? No justice here at all.
Gordon Irvine
Oakville
(We need sentencing reform immediately)
Article content
GREAT CROSSTOWN WONDER
The Great Pyramid of Giza and the Great Wall of China constitute great engineering achievements of the ancient past. The Great Wall was built over many centuries, though, while the Great Pyramid was constructed in 20 years. Fast forward to modern times — the first Toronto subway (Yonge) line was started in 1949 and completed in 5 years. The Crosstown Line was started in 2011 and most likely will not be completed till 2024. This means that Toronto residents and businesses will have experienced the multiple road closures, dust, etc. for more than 13 years and some businesses have closed as a result. Having worked in aerospace where late aircraft deliveries resulted in heavy penalties (>$100,000), I would consider this project to be liable to the Toronto taxpayer. While the 'go-to excuse' is the pandemic, poor planning, etc. is the more likely cause of having one of North America's most-travelled roads under a 13-year construction zone. I also believe that it's more difficult to find young workers who want to do the heavy work and less of the 'real' skills tradesperson. Today we have the advantage of technology, the ancient Egyptians had manpower.
Article content
Allan Leggate
Toronto
(This is such a mess. It has caused havoc on a significant stretch of our city for far too long. Someone needs to be held accountable for this but sadly no one will be)
GOOD INVESTMENT
Amidst the multiple global crises, good news is always welcome as a breath of fresh air. We now can celebrate that the Government of Canada on Sept. 21 made a historic pledge to the Global Fund to Fight HIV/AIDS, TB and Malaria of $1.21 billion, so no one's left behind. This pledge would not have been possible without the hard work of Members of Parliament and senators. I want to recognize my MP, Nathaniel Erskine-Smith, for continuing his fight for global health and equality.
Andrea Gonzalez
Toronto
(Well said)