Here are today's Ottawa Sun letters to the editor.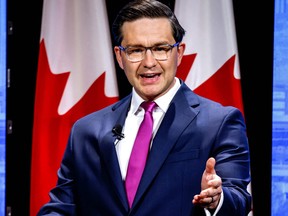 Article content
POILIEVRE POISED
Article content
Now that Patrick Brown has been ousted, those at the state network are beside themselves that (gasp!) Pierre Poilievre will be victorious in September. The CBC, along with countless political pundits and mainstream media types, have demonized "Skippy" since long before he entered the race.
Charest is a fading horse. The kid from Alberta who surprised everyone with his first victory over Liberal David Pratt in 2004 is poised to take the helm. Next stop, the PM's office. Look out, Mr. Freeze, you won't know what hit ya.
STEPHEN FLANAGAN
OTTAWA
(Well, he may have a few years to really prepare himself.)
HE'S NOT THE BIG WINNER
Re: PM the big winner; Tory brand takes another hit with Brown ousted from race, column, July 7
Article content
Brian Lilley normally makes sense in his many fine opinion pieces. Lilley's claim that "PM The Big Winner" after federal Conservatives ditched dodgy Patrick Brown was, however, a bit of a head-scratcher.
By promptly discarding Brown, Conservative leaders preserved the party from the breath of scandal. This facilitates a welcome contrast in the next election with the scandal-plagued (Aga Khan, blackface, Wilson-Raybould, Kokanee grope, etc.) Liberals.
This wise and timely move will allow Conservatives a shot at a federal government led by a new PM with honesty and ethics. The leadership race is welcome in light of the demise of Shaky Scheer and Evasive Erin O'Toole, a Liberal in sheep's clothing.
The current PM is not a winner. The Canadian people are the winners. There is hope for an after-Trudeau Canada.
Article content
DAN NAYLOR
OTTAWA
(Thanks for reading.)
LET THEM FLY ECONOMY
We should insist that Trudeau and his cabinet fly economy on Air Canada or WestJet whenever they need to travel. Instead of departing and arriving from taxpayer-funded private terminals and flying on private jets, they would benefit from the same travel experience the rest of us are suffering.
If they had to suffer too, they might be motivated to do something about it. They could start with dropping the mandatory use of ArriveCAN, dropping the remaining COVID travel restrictions and reopening international air travel in the secondary airports. One of the reasons Toronto's Pearson is in such dire shape is that all international air travel is funnelled into four select airports and Pearson, being one of them, can't handle the volume from Central Canada and points east.
Article content
JIM STEVENS
OTTAWA
(Maybe they'd like the free pretzels in economy.)
DO SOMETHING, JAGMEET
Jagmeet Singh takes great delight in crowing about helping everyday Canadians continually beset by rising prices. On July 2, a half-page ad appeared in many Canadian newspapers. It featured a large picture of Singh, with a quote from him in mid-May, pointing out the mass layoffs and higher prices that will result from the proposed Shaw-Rogers merger.
Well, now you have an opportunity to do something concrete and useful, so what are you waiting for, Jagmeet? You claimed your devil's coalition with Trudeau Liberals was to help Canadians. When are you going to put pressure on Justin to exercise the government's, the CRTC's and Competition Bureau's authority to finally bring this mega-deal, unfavourable to the majority of average Canadians, to a halt?
Surely the coalition wasn't just window dressing to feed your ego with illusion of non-existent power.
MIKE ALAIN
OTTAWA
(No, surely not.)