Here are today's Ottawa Sun letters to the editor.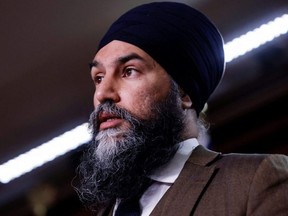 Article content
SENSELESS LINE IN THE SAND
Article content
It makes absolutely no sense that NDP Leader Jagmeet Singh would draw a line in the sand for support of our current government over the implementation of a new, and very costly, dental care program.
It might be argued that dental care is a critical health service, but why on earth would he not force Justin Trudeau to increase health-care transfers to the provinces, which would go a long way to rectifying the current dilemma?
He totally missed the boat, but, really, should anyone be surprised when every move is done to score political points?
WAYNE BOYCE
CARLETON PLACE
(We see your point.)
ALWAYS JOKING, THAT JAGMEET
Jagmeet Singh has apparently now given the prime minister an ultimatum. If the first stage of the universal dental program is not implemented by year's end, the NDP Leader has said he will no longer prop up the Liberal minority government. Jagmeet's a funny guy, eh?
Article content
AL WILLEY
EDMONTON
(At least people might have their pearly whites.)
PAID, NOT EARNED
Re: Hospitals can't even keep the doors open — it's time for people to be fired, column, Aug. 9
I read the excellent article by Anthony Furey. I would have given him an A+ except for one comment he made. When discussing the salary of Dr. Bernard Leduc, president and CEO of the Montfort Hospital, he said "Dr. Bernard Leduc, who earned $434,515 …" He should have said "was paid" rather than "earned." None of the CEOs of hospitals that are on life support has earned their salary and, as such, they should be terminated. After all, that's where the buck stops.
JOE LEGARI
OTTAWA
(Thanks for reading.)
LEAVE THOSE KIDS ALONE
Trustee's bid masked; Fails in attempt to get mandatory face covering back on school board agenda, Aug. 10
Article content
Wow, some people just do not want to give up on trying to control others. It's not enough that they have the choice to wear a mask themselves, but they believe everyone else should, too, and want rules demanding it. Thankfully, the majority of the trustees decided not to hold a ridiculous vote on mandatory masking in schools. How about we leave the kids alone? It has already been proven that the benefits of the previous school closures were minuscule.
MIKE SHURTLIFF
KANATA
(There's more to the argument with parents concerned for students who are immunocompromised.)
KIDS CAN BE CRUEL
The asinine decision by the Ford government to make face diapers optional for school kids will only hurt the ones who wear them. Just think about it for a moment; here you will have students, especially the younger set, who will be wearing masks because of overprotective parents having a very tough go of it when the majority will be maskless. Kids can be cruel and that will be no exception.
STEPHEN FLANAGAN
OTTAWA
(Thanks for reading.)
GOOD POINTS, BUT …
Re: PM poised for another win?; Trudeau could cement his legacy, column, Aug. 7
While I agree with Warren Kinsella (all good points) about the Liberals calling a snap election this year because they are opportunists and sneaky, how could Justin Trudeau justify to Canadians the calling of yet another election? However, Liberals or Conservatives, Canadians will be getting the same government either way. Though it would be great to end Trudeau's reign of error.
JONATHAN DERBY
(It would be a chore to head to the ballot box again.)