Here are today's Ottawa Sun letters to the editor.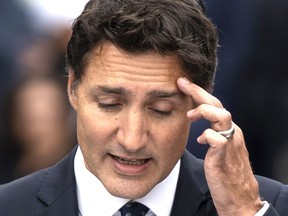 Article content
ANTI-TRUDEAU TALK PICKING UP
Article content
Re: A-twitter over PM; Liberals dismiss the very real #TrudeauMustGo campaign, column, Sept. 20
Article content
The anti-Trudeau rhetoric does appear to be gaining ground. When I was in P.E.I. this summer, almost immediately after it was known that our PM had lunch at a Charlottetown restaurant, the restaurant started receiving numerous bad reviews.
I myself am triple-vaccinated, but anyone labelling someone who isn't as "misogynistic, often racist," would be considered extreme views coming from an average person — but from a leader of a G7 nation? Wow!
MIKE SHURTLIFF
KANATA
(It's not the restaurant's fault.)
TAKE A STAND ON DOCTORS
Re: We need family physicians, letter, Sept. 20
Why is it that so many of us are so content with this status quo? Is it possible that we don't really care what happens to our fellow citizens? But heaven forbid should it hit us on the head. I can already hear the screaming and the outrage. No one is exempted from doom. So why wait until it happens? Take a stand for the betterment of others and yourself.
Article content
CASPAR PFENNINGER
CALGARY
(Something's got to give.)
LESSONS NEEDED
The Liberal party might be required to set aside an amount of money from its negative ad campaign budget against the opposition to provide singing lessons for our out-of-tune PM. His a cappella performance in the lobby of a hotel recently in England did not warrant an encore presentation.
When I was a youngster, my parents spent their hard-earned money on singing lessons for me. They felt it was money well-spent as in future years I would sing in many church choirs, occasionally performing solos and as a guest singer for many local bands throughout my lifetime.
The public was already tired of his repeated song and dance routines and don't need further torture. I'm thankful for my surplus supply of earplugs.
Article content
Amazing how confident Mr. Poilievre was while making his opening remarks when Parliament recently resumed. His words had better be heeded by the Liberals as he referred to the welfare of Canadian citizens or it could be the speedy decline in popularity of their party.
Looking forward to many interesting sessions as the Conservatives' new leader begins his journey up a steep and treacherous slope filled with obstacles at each incline. Let's hope the young and energetic individual and his party can carry a tune compared to his competition.
WAYNE KIRK
PEMBROKE
(Or they could get him singing lessons using taxpayers' money and call it a public service.)
JAILED BY ARRIVECAN
ArriveCAN represents political science, not medical science. It is the ultimate lockdown and lockout.
Article content
It was imposed by a dictatorial federal government to control its population, make travel difficult and keep citizens spending at home, not abroad. And this spendthrift government needs all the tax income it can grab to continue bribing us with our own money.
No other country kept the COVID-19 screws on as long as Canada. Why? Are they healthier than us? Is our "science" better than theirs? No. We are simply a more docile nation of sheeple.
ArriveCAN was designed to be restrictive, not protective, and it did that jailer job very well.
DYAN CROSS
OTTAWA
(The scale of our COVID case counts might beg to differ.)