Here are today's Ottawa Sun letters to the editor.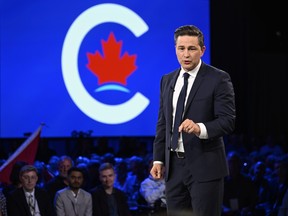 Article content
A COMMON-SENSE APPROACH
Article content
"OK, Pierre," as you are the soon-to-be prime minister of Canada, with my support, here's a piece of common sense to fit into your agenda: Affordable housing and immigration numbers correlate. We could build a million apartments, but, if we import as many families, we won't solve that problem.
Article content
Being that the "beginning" of any type of housing construction relief is at least two years away as we are not even in the planning stage, let's do something that can be "immediate."
Slow down immigration to a level that makes "common sense" in solving the housing problem. Doing nothing to change the current plan of mass immigration over the coming years will make "common sense" just another political banner.
MIKE DEFALCO
ARNPRIOR
Article content
WHO CARES, JANN?
So Jann Arden will no longer fly with WestJet. Who cares? What makes this singer think anyone cares about her reaction to Pierre Poilievre's PA performance on his recent flight from Quebec City? By the way, it was a special flight put on primarily for returning convention delegates and filled mainly with those PC-inclined passengers. She should be thanking WestJet for adding this flight, which actually added options for her and any other non-delegate passengers.
Once more, we are treated to a tirade from the self-proclaimed elite and woke who think their views on everything matter and should be adopted and shared by everyone else. And this isn't her first rant; recall her tirade directed at VIA Rail years ago, when she was removed from a train. What makes her think she is so special?
Article content
Go fly Air Canada, Jann.
MIKE ALAIN
OTTAWA
BUS MONITORS NEEDED?
I heard on the news that some school bus drivers are quitting because of the out-of-control behaviour of the kids.
I grew up on air force bases, and on most of them the kids had to bus to the closest town for school, swimming lessons, etc. Our buses always had a bus monitor to keep the kids in line, leaving the driver free to focus their attention on the driving. Perhaps the parents could set up a schedule and take turns filling the monitor position.
As far as I am concerned, having drivers responsible for both is extremely dangerous. A few out-of-control kids in any circumstance are pure hell. I can't imagine a whole busload with no supervision. God bless the drivers. Just a suggestion.
BETTY-ANNE TREMBLAY
OTTAWA
YOU SAID IT: Jann just furious

YOU SAID IT: Fixing country will take time