The most prudent course would be a hybrid approach — keep the best of the past, and add an exciting addition on the west, writes Lorne Beug.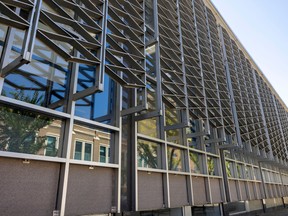 Article content
On Sept. 27 the Regina Public Library board voted 6-2 to pursue the path of "revitalizing" our downtown by demolishing one of its most iconic, heritage buildings, the central branch.
Article content
If we don't keep the best of the past, why should we expect anyone to care about or preserve what we do now?
Article content
Previously, the board sought to alarm the public by stating it would cost $50 million to renovate the old building which was in "life-threatening" condition.
Just four days before the deadline for public submissions to this meeting, the board released to the public 12 reports (some 600 pages) which it based its decision on. Buried in these reports are some estimates for the cost of a new build: $124 million (from 2020), and $195 million (total costs from 2017).
What is most striking to me in the 2015 building assessment is that there are no basic structural issues with the current building that need to be addressed listed, even in the long-term scenario.
Article content
The building is a clear-span space which could be maintained with its original heritage envelope and reconfigured inside to whatever the current functional requirements are. Also there is a sizeable empty plot that the library owns to the west — an imaginative architect could use it to greatly expand the square footage of the total building.
The most prudent course of action would be a less costly hybrid approach — keep the best of the past, and add an exciting new addition on the west.
Lorne Beug, Regina
Regina's Central Library looks for next chapter in its evolution

Regina Public Library chair says vote only 'first step' in rebuild process
SHARE YOUR VIEWS
The Leader-Post welcomes letters, which should include the writer's name and phone number.
Article content
Submissions will be verified and edited before publication.
We publish the names and community of all letter writers.
Emailed letters are preferred but do not send letters as attachments.
Writing more than one letter a month is discouraged and "open" letters are not accepted.
Email: [email protected]
Send to: 300-1964 Park St., Regina, Sask., S4N 7M5
Want to know how we decide what to cover and how editorial decisions are made at the Regina Leader-Post and Saskatoon StarPhoenix? Get the weekly Letter From the Editor newsletter from the Editor in Chief Russell Wangersky and join the discussion on what goes into covering news and delivering commentary, both in print and online. Click here to subscribe.