The premier said former public health director Dr. Horacio Arruda made the request to remove a section from a report on poor air quality in 2019.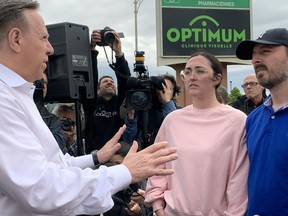 Article content
SAGUENAY — Premier François Legault insists it wasn't his government that stepped in to withhold worrisome data on arsenic levels in the air in Rouyn-Noranda, but rather Quebec's former public health director, Dr. Horacio Arruda.
Article content
It was recently reported that a section had been removed at the last minute from a report on poor air quality in 2019, at Arruda's request.
Officials have been concerned about emissions from Rouyn-Noranda's Horne Smelter for years. In addition to high arsenic levels, there are more incidences of lung cancer and babies with lower birth weight in the area than in other Quebec regions.
Questioned about the issue at a press conference Wednesday in Saguenay, where he met with residents affected by threats of landslides, Legault insisted he had nothing to do with the withdrawing of the report's annex.
"This is not an intervention by anyone other than public health," Legault said. "Public health is completely autonomous.
"What I understand, with the questions that Arruda was asked (by people in Legault's circle), is that he was waiting for safer results before publishing them, but it is completely under the responsibility of public health," the premier said.
Legault added that he is working "on a plan" regarding the smelter and that discussions had been held with the company's management.
'It will be a hard summer,' Dubé says as Quebec plans to partially close six ERs

CAQ has slipped and Quebecers are interested in strong opposition: poll

Dozens of Saguenay homes evacuated due to landslide risk