"Distributing leaflets to smear Québec solidaire won't convince Quebecers to vote for François Legault."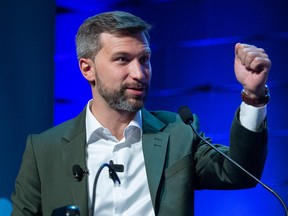 Article content
SHERBROOKE — François Legault has taken a page from Stephen Harper's playbook in his treatment of Québec solidaire's financial proposals, according to Gabriel Nadeau-Dubois.
Article content
The Québec solidaire co-spokesperson says the CAQ leader is adopting a defensive strategy, including the distribution of flyers accusing the party of "always taking more money from middle-class wallets" with its "orange tax."
Article content
"He decided to turn to the strategy popularized by Stephen Harper: negative advertising," Nadeau-Dubois said Saturday morning in Montreal following an appearance at Force Jeunesse's conference.
He said the CAQ's leaflet cuts corners in its representations of Québec solidaire's stance on taxation.
"Distributing leaflets to smear Québec solidaire won't convince Quebecers to vote for François Legault. I don't think this approach to politics works in Quebec," Nadeau-Dubois said.
Article content
The CAQ leader said he wanted to inform voters before they go to the ballot boxes.
"The orange taxes are negative," he said during a press conference in Lévis.. "It's therefore important that Quebecers know what they're signing up for with Mr. Nadeau-Dubois."
The CAQ leaflet mentions Québec solidaire's proposal to tax vehicles emitting 210 grams or more of CO2 per kilometre, writing that that the purchase of a Toyota Camry would cost an additional $4,831. Legault used this same example during Thursday's French-language debate.
Nadeau-Dubois says the CAQ leader is "playing with the truth."
"There are a number of Camry models and four out of six of them wouldn't be affected by the measure we're proposing. The two that would be affected are the high-performance models that are already more expensive and pollutant," he said during the Force-Jeunesse conference.
Article content
Sports utility vehicles, like the Toyota RAV4 and Honda CRV, would also be exempted from the new tax, Nadeau-Dubois added, since they come in under Québec solidaire's emissions threshold.
The Québec solidaire leader suggested funds generated through the tax on highly-polluting vehicles would be reinvested to reduce the price of vehicles that are "good choices."
Election is 'last chance' to fight climate change, Nadeau-Dubois says

Health must come before tax cuts, QS's Gabriel Nadeau-Dubois says
This story was produced with the financial assistance of the Meta and Canadian Press News Fellowship.