Ottawa's NHL team also announced that it was partnering with Live Nation and Sterling Equities to build an arena on the site.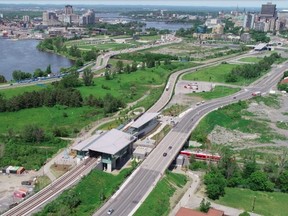 Article content
On Thursday, the Ottawa Senators were unveiled as the preferred bidder for the arena parcel at LeBreton Flats. The team also announced that it was partnering with Live Nation, Sterling Project Development, Tipping Point Sports and Populous to build an arena on the site.
Article content
(The arena consortium has no effect on the Senators ownership, which remains in the hands of Anna and Olivia Melnyk, daughters of former owner Eugene Melnyk, who died in March.)
Here's the rundown on the U.S. based companies that will play an instrumental role in building the new arena for the Ottawa Senators.
Jeff Wilpon and Sterling Project Development
Jeff Wilpon, 60, is the executive vice-president of the family run, New York-based company, Sterling Project Development.
In 1980, Wilpon's father, rags-to-riches real estate magnate Fred Wilpon, bought a one per cent share in the New York Mets baseball club. From 2002 to 2020, the Wilpons were majority owners of the National League team, until they sold their stake to hedge fund manager Steve Cohen for $2.4 billion.
Article content
During the Wilpons' tenure, Jeff oversaw construction of the Mets' new ball park, Citi Field, in Flushing, N.Y., coming in on time and under budget.
But the Wilpons' tenure as majority owners was a rocky one.
This is how the New York Times story described the Wilpon years in a 2019 story.
"At their best, the Wilpons, self-made multimillionaires from the city's outer boroughs, shined as generous philanthropists who occasionally broke the bank for a star player. At their worst, they were a squabbling, disorganized clan with a baseball team that fans saw as inept and thrifty, and functioning as a vanity play for the family scion, Fred Wilpon, and his eldest son, Jeff, who has overseen a team with mostly disappointing results since 2002."
Article content
The same story described Jeff as "aggressive and short-tempered." Jeff, who like his father had a short career as a professional baseball player himself, was accused of being a micromanager who meddled too much with the club operations.
Jeff Wilpon is also owner of the New York Excelsior, a team of professional videogamers.
The Wilpon family were notable investors with convicted fraudster Bernie Madoff, reportedly losing $700 million in Madoff's ponzi scheme.
Sterling was also a partner in the new arena for the NY Islanders arena, UBS Arena.
Tipping Point Sports
Tipping Point Sports bills itself as a "boutique sports finance and advisory firm." Based in Cherry Hill, New Jersey, Tipping Point and its CEO Mitchell Zeits, list the NHL's Florida Panthers as clients he's advised about building new arenas along with the Cleveland Cavaliers and Detroit Pistons of the National Basketball Association.
Article content
The Tipping Point website says Ziets "fills a critical role by supplying financial advice for both teams and municipalities seeking to build arenas and stadiums." That advice includes such things a due diligence, public-private partnership strategy and negotiations of development agreements.
His company's clients include the Cleveland Cavaliers, Detroit Pistons and Florida Panthers on arena matters. Elsewhere, Ziets is serving as a financial strategist to Chris Hanson tied to the development of a new downtown arena in Seattle. In Phoenix, he's providing investment banking services for the Coyotes as they explore building a new arena. In Oakland and San Diego, he's providing financial advice in efforts to build new NFL stadiums in those two markets. In the Bay Area, his client is the city of Oakland. In San Diego, he's assisting JMI Realty as the Chargers propose a downtown stadium tied to a convention centre expansion.
Article content
Populous
Populous is a global architectural design firm that has built arenas such as Climate Pledge Arena for the Seattle Kraken, T-Mobile Arena for the Las Vegas Golden Knights, the Videotron Centre in Quebec City and Tottenham Hotspur Stadium in London, England.
Formed in 2009, Populous has developments in 34 countries around the Globe.
Live Nation
Live Nation Entertainment was formed in 2010 in a merger of Ticketmaster and Live Nation and is the world's largest events promoter.
Its president is Canadian Michael Rapino, who was born in Thunder Bay and named president and CEO of Live Nation in 2005 and continued in that role with Live Nation Entertainment after the merger.
A graduate of Lakehead University, Rapino began his career promoting small Canadian performers and later worked in sales and marketing for Labbatt Breweries.
Article content
Live Nation Entertainment opened an Ottawa office in 2017 and has brought blockbuster acts to the city like Justin Bieber in March and Maroon 5 in August. It also sponsors music festivals such as Escapade, which runs this weekend at Lansdowne Park.
After nearly two gruelling years for the concert industry because of the COVID-19 pandemic, Live Nation rebounded in late 2021, organizing 17,000 concerts for 35 million fans, mostly in the U.S. and the U.K.
The industry has rebounded even more this year, with more than 70 million tickets sold, a 36 per cent increase from 2019 that the company attributes to pent up demand for live shows.
Live Nation also hosts events in the lucrative mixed martial arts field.
It bills itself as the "world's leading live entertainment company," hosting 40,000 shows annually, more than 100 festivals and selling half a billion tickets worldwide.
The company is headquartered in Beverly Hills, Calif., and employs 44,000. Live Nation Canada is based in Vancouver.
Also: Ottawa Senators win bid for downtown arena on LeBreton Flats
with files from Bruce Garrioch