Regina city council has charged a "catalyst committee" with getting opinions on whether new megaprojects should go ahead, writes Gord Brock.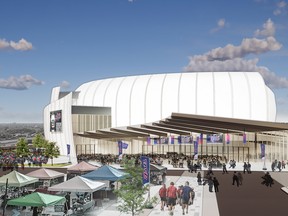 Article content
Talk about putting the fox in charge of the henhouse.
While taxpayers and consumers in general are struggling to make ends meet because of high inflation and higher debt payments, Regina city council has charged a "catalyst committee" with getting opinions on whether proposed new megaprojects should go ahead, and how.
Seriously? By this decision, council as good as gave the go-ahead for some form of mega-project. As preceded the Mosaic Stadium construction decision … no vote was held on whether it should go ahead … here comes the sales pitch to smooth it over with taxpayers.
Oxford's definition of a catalyst: "A thing or person that facilitates a change."
And that is exactly what this committee will do. Public information provided in advance of Mosaic Stadium's build was slanted toward a go-ahead. And with this committee mandated to make a change, you can bet on more of the same. At the very best, this committee's credibility is already undermined. At worst, it'll be a marketing exercise.
And then it'll be used as an excuse for not allowing a vote on whether the megaproject(s) should go ahead.
If council wants any credibility before shouldering cash-strapped taxpayers with another massive mortgage, strike a "catalyst committee" for a vote this year on spending hundreds of millions of their dollars on new recreational facilities.
Gord Brock, Regina
Council must rebuild trust
There is only one response that will begin to heal the hurt and get at the systemic problems with this colonial country we call Canada and that is a direct response from Coun. Terina Shaw to the Indigenous people of this province and city.
Article content
While it is valuable that Mayor Sandra Masters on behalf of council did apologize for this incident as it has lost some good will or political capital and it will take some time to gain respect again.
Now maybe the mayor and council will more effectively police one of their own, this does not change it until the next time this happens. And until those words come out from this councillor, we may never know whether this councillor has learned anything.
Jim Elliott, Regina
Plenty of shovelling going on
Calgary Stampede equals large amounts of horses and cattle equals large amounts of manure. Seems appropriate that so many politicians should show up for the opening.
Bill Temple, Regina
SHARE YOUR VIEWS
The Leader-Post welcomes letters, which should include the writer's name and phone number.
Submissions will be verified and edited before publication.
We publish the names and community of all letter writers.
Emailed letters are preferred but do not send letters as attachments.
Writing more than one letter a month is discouraged and "open" letters are not accepted.
Email: [email protected]
Send to: 300-1964 Park St., Regina, Sask., S4N 7M5
Want to know how we decide what to cover and how editorial decisions are made at the Regina Leader-Post and Saskatoon StarPhoenix? Get the weekly Letter From the Editor newsletter from the Editor in Chief Russell Wangersky and join the discussion on what goes into covering news and delivering commentary, both in print and online. Click here to subscribe.