Here are a few nifty options to help take care of Dad.
Article content
Dads don't expect much — and that's all the more reason to spoil them. That said, the perfect Father's Day gift isn't too expensive, too mushy or too gimmicky. The perfect Father's Day gift, rather, is as practical as the man himself, somewhat innovative and perhaps just a little bit indulgent.
Here are some gift ideas for the dad (or dad figure) in your life:
Night Swannies
Starting at $69
Swanwicksleep.com, Amazon.ca, Sport Chek
It's a well-known fact now that blue light isn't good for us. It impacts our sleep, especially if our bedtime routine consists of watching Netflix in bed. If Dad tends to squeeze in screentime before he hits the hay, a pair of Night Swannies will protect him from more than 99 per cent of blue light and prevent eye strain, allowing him to slip into a deep sleep afterwards (as long as he wears them continuously for two to three hours before bed). These durable orange-tinted specs come in classic or aviator styles, and are available in sizes small, regular or large.
Article content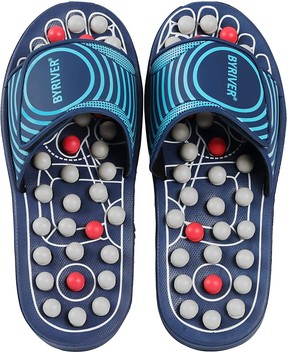 Acupressure
Foot Massage Slippers
$35.99
Amazon.ca
They're not exactly stylish — or comfortable, for that matter — but acupressure slippers could be just the thing Dad needs (and didn't even know he needed) to help mitigate all sorts of pain. Along with aiding in plantar fasciitis, arthritis or other foot-related conditions, these stimulating slippers help improve overall circulation, lower back pain, migraines and physical mobility. Each adjustable slipper has 39 built-in massage buttons that take some getting used to for the first week or so, but are well worth it for the tension relief.
Ravensburger John Deere Legacy 1,000 piece puzzle
$30
Amazon.ca
Whether he's got rural roots or a penchant for classic farm machinery, this John Deere Legacy 1,000 piece puzzle from the pros at Ravensburger is a fine way to spend a rainy day in the porch. John Deere diehards can piece together iconic tractors and other vehicles in this and other vintage-inspired puzzles from the same collection. Bonus points if you offer to put it together with him.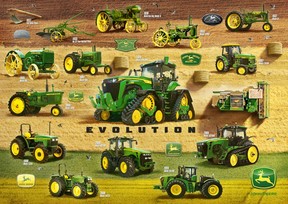 Outbound Drink Sling
$14.99
Canadian Tire
The sling's the thing for dads who like to keep their cold ones close by in the heat of the summer. CanTire's reasonably priced cylindrical soft cooler bag can hold a six-pack of cans, features a shoulder strap and full-length zipper, and even comes with a can kozie. Can he take it anywhere? Yes he can.
Victrola Portable Record Player
Starting at $80
Article content
Victrola.com, Amazon.ca
This back in the day staple is once again a must-have for music buffs — and a portable option is just what Dad needs for his summer soundtrack. Beloved brand Victrola has on-the-go turntables in all sizes, speeds and colours with built-in Bluetooth technology to stream tunes wireless from any Bluetooth device. Many of these turntables also have aux-in jacks for playing music from non-Bluetooth devices, an aux-in for external speakers and headphone jacks because if anyone knows how to kick it old school, it's Dad.
ThermoPro Bluetooth Meat Thermometer
$79.99
Amazon.ca
The barbecue chef who has everything might not have this handy — make that hands free — gadget, which allows him to step away from the grill and enjoy his company. Once the grilled goods reach their pre-set temperature, he'll get a notification on his phone. This particular model features four probes for keeping tabs on all of the steaks, preset temperatures for nine types of meat, technology that estimates how long the food will take to cook and a timer that tells him when to give those burgers a flip.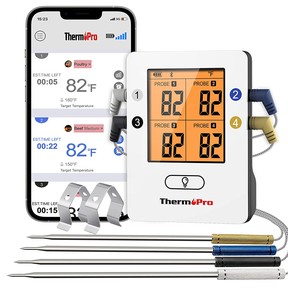 StayAbove Wellness Bundle
$129.99
Stayabovenutrition.ca
Active dads can always use a boost to keep their lifestyle going. Hamilton, Ont.-based supplement experts StayAbove Nutrition's Wellness Bundle includes their Muscle 5 protein powder (in vanilla and mocha chocolate flavours) to support immune function and help build muscle mass, and their lemon-flavoured Omega 3 oil to support cognitive health and brain function. Together they'll keep Dad fuelled this summer.
Nivea men's skin care
Starting at $14.99
Skin care regimes are for everyone, so keep Dad's skin firm, flawless and fab with some new products. Nivea's Active-Age 24-hour face moisturizer reduces wrinkles and keeps his skin looking young, while their Active-Age eye cream keeps the bags at bay and moisturizes that delicate skin around the eyes. Aloe vera and provitamin B5 are key ingredients in the Protect & Care after shave balm, which protects and soothes his cleanly shaved face.
— Lindsey Ward