Article content
After rejecting a staff suggestion for the name of LaSalle's massive new waterfront park development, town councillors want to hear what residents think it should be called.
Article content
A report from town administration went before council this week that suggested combining Riverdance Park, Front Road Park and Gil Maure Park under the name Petite Côte Waterfront.
"The decision was made to refer to administration to find a new name for the overall park," said Mayor Marc Bondy. "Council doesn't like 'Petite Côte,' so they want a public consultation."
The recommendation was part of the planned Small Coast Waterfront Experience, a $50-million park expected to include an event centre, festival area, observation deck, expanded marina and the town's first museum, among other highlights.
Petite Côte — French for 'little coast' — is the original European name of the region now called LaSalle.
Most councillors didn't like it. Deputy Mayor Crystal Meloche made a motion for administration to gauge public opinion on potential park names and come back to council with some different options. The public consultation will include at least one in-person meeting. A date for the meeting hasn't been scheduled yet.
Article content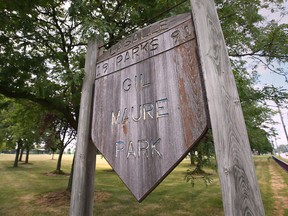 Councillors are not the only ones who don't like the name. Family of the late Gil Maure have been fighting against removing his name from the park sign.
Gilbert Maure, who died in 1970, owned the property that is now the park. LaSalle bought 3.6 acres of land from the Maure family in 1980 and combined it with some other previously purchased property. At the request of his family, the town named it Gil Maure Park in 1994.
With the acquisition of more land for the Small Coast project, the parkland now spans about 59 acres.
The staff report had suggested recognizing Maure in the event centre with a room named after him, but his family wasn't happy with that. Council also asked staff members to work with the family on reaching a happy compromise.