B.C. hasn't won a Mann Cup since the 2015 Victoria Shamrocks prevailed.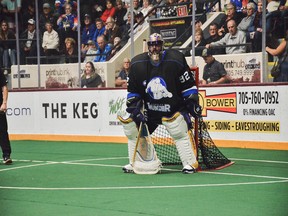 Article content
The Langley Thunder have forced the Mann Cup to a seventh and deciding game this afternoon and given themselves one crack at breaking various B.C. slumps in the national Senior A box lacrosse championships. 
Article content
The Thunder and Peterborough Lakers have a single-game, winner-take-all for the top prize in Canadian club lacrosse today (4 p.m.) at the Peterborough Memorial Centre after the Thunder beat the Lakers 9-4 there on Friday to even their series at 3-3.
Article content
The game will be shown live YouTube. 
B.C. hasn't won a Mann Cup since the 2015 Victoria Shamrocks prevailed. A Lower Mainland team hasn't won since the 2001 Coquitlam Adanacs and a B.C. team hasn't won on the road since the 1986 New Westminster Salmonbellies.
Mann Cup host duties alternate year-to-year between the champions of B.C.'s Western Lacrosse Association and Ontario's Major Series Lacrosse.The Mann Cup wasn't contested the past two years due to the COVID-19 pandemic. Peterborough will claim a fourth straight title with a victory tonight.
Article content
Langley took the opening two games of this set. Peterborough then won three in a row before the Thunder victory on Friday.
"We have a special group of guys and we are just not done playing lacrosse. We love this game and we came here for a reason; we sacrificed a lot coming to Ontario to compete for such a prestigious trophy. Our backs were against the wall and we responded on the floor," Langley captain Connor Robinson told reporters after Game 6.
Langley got a 49-save performance from Frank Scigliano. They were paced offensively by four goals and two assists from Dane Dobbie, the 35-year-old who has had an illustrious career — including a National Lacrosse League MVP honour — but is playing in just his first Mann Cup. Curtis Dickson had one goal and five assists for Langley.
Article content
Dickson won a Mann Cup with Peterborough in 2017 in New Westminster.
Sciglano, Dobbie and Dickson will be teammates this winter with NLL's San Diego Seals after Dickson signed a free-agent deal there.
Matt Vinc made 39 saves for Peterborough. Mark Matthews had three assists.
The Lakers lost Shawn Evans, who had set the Mann Cup all-time scoring record earlier in the series, to an ankle injury in the second period and were without Thomas Hoggarth due to an upper body injury. Their status for Game 7 remains up in the air, according to the Peterborough Examiner. 
"It's a seven-game series for a reason and the fourth one is always the hardest one to get," Peterborough offensive coach Tracey Kelusky told the Examiner. "We anticipated a long series at the start of this."
Article content
A Mann Cup hasn't gone a full seven games since the Brampton Excelsiors beat the Salmonbellies at Queen's Park Arena in 2009. New Westminster was leading that Game 7 by a 7-6 count with 30.1 seconds and possession of the ball at centre floor after a timeout. They took the ball in their own zone to try to run down the clock, turned it over, and gave up the game-tying goal with 15.7 seconds showing on the clock. Brampton wound up winning 9-7 in overtime.
Six of the 10 Mann Cups prior this one have gone six games.
Peterborough is in search of its 18th Mann Cup. The Thunder are looking for their first in this their third trip to the championship. Their most recent berth was in 2012, when they fell in six game in Peterborough after winning the opening two games of the set.
Article content
Langley aims to bring the Thunder, end Ontario's reign at Mann Cup lacrosse nationals

Mann Cup: Dane Dobbie heroics help Langley Thunder to 2-0 series lead