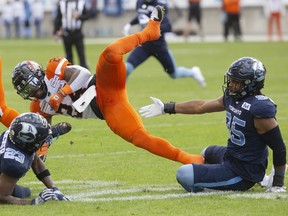 Article content
The Argonauts dodged a bullet on Saturday afternoon at BMO Field.
Article content
There are times when it's better to be lucky than good.
Article content
And on this day, the Argos weren't good, at least for far too many stretches.
But that will all be forgotten in the wake of a much-needed 23-20 win over the B.C. Lions as the Argos inched closer to nailing down first place in the East.
Tommy Nield's first career touchdown, on a 37-yard reception from McLeod Bethel-Thompson with three minutes remaining. gave the Argos their winning score.
Article content
On the play, B.C.'s secondary didn't pay Nield any respect on a simple skinny post pattern.
Then came a careless offside penalty by the Boatmen on the ensuing kickoff, which B.C. took advantage of by advancing the football to midfield on the return, then driving to the Toronto 34 yard line to set up a potential game-tying field with a 1:31 left in regulation time.
Article content
Enter veteran Sean Whyte, whose attempt hit the left upright to preserve the Argos win.
Whyte hadn't missed a field goal in weeks, but he did in the game's biggest moment, evoking ugly memories of B.C.'s visit last season when the visitors missed three field goals in an eventual overtime loss.
It's not how, but how many as the Argos improved their record to 9-6.
Still, they have to be better and Lady Luck likely won't bail them out again.
Adversity struck the Argos on the first play to start the fourth quarter when B.C.'s defence forced Bethel-Thompson into a fumble with Toronto in field goal range.
The Leos returned the fumble to the Argos 31 and needed just one play to hit pay dirt and, with the extra point, take a 17-16 lead.
Article content
At that point, the many missed plays by the Argos appeared to have come back to bite them.
Following a quick two-and-out, the Argos gave up a 35-yard punt return as momentum had officially swung back in B.C.'s favour.
Toronto did regain a bit of momentum, but it was short-lived. When a challenge flag would have extended a drive, the Argos had none because head coach Ryan Dinwiddie blew it on an ill-timed challenge in the third quarter.
On B.C.'s ensuing possession, it engineered a field goal drive to extend its lead to 20-16 with 4:38 to go.
But MBT rallied the offence with completions of 21 yards to Markieth Ambles and 12 more to Kurleigh Gittens Jr., before hitting Nield for the game-winning major.
Toronto led 13-7 at the half, on the strength of a Chad Kelly TD plunge. It was a half that featured an Argos offence that couldn't execute and a Leos team that was penalty prone.
B.C. was bad, victims of too many self-inflicted wounds, but Toronto's offence, once again, wasn't good, at least not good enough to create separation.
Article content
Had B.C. been able to exercise better discipline when the Argos went with a hard count, chances are Toronto would not have produced a touchdown.
After taking a 13-0 lead, Toronto's woeful offence generated a total of 29 yards.
Overall, it was a very uneven first half as both teams were penalized for illegal kicks when punts sailed directly out of bounds.
On B.C.'s opening three plays, the visitors ran nine plays, featuring two sacks surrendered and one fumble lost.
In 30 minutes, B.C. managed to generate two plays of any significance, a run and a pass on the same possession that led to a major.
While the score read 13-7 at halftime, the Argos had their share of opportunities to lead by at least 14 points, perhaps by as many as 20.
Article content
No run game to speak of, lack of protection up front, some bad throws and some questionable play calling, the issues that surfaced have been themes that have plagued the offence this season.
Twice the Argos had the ball late in the half in decent field position and twice they failed to execute.
On their final possession, the Argos scrimmaged from B.C.'s 45 yard line with 55 seconds remaining. Pressure on first down forced an incompletion. A procedure penalty on second pushed the Argos back five yards. On second and long, they tried to run a screen and it went nowhere.
And to think B.C.'s offence was even worse.
The Leos had bad field position for most of the half, which ended with B.C.'s passing game not even able to manufacture 100 yards.
With starters sidelined in the wake of injuries, all three levels of the Argos' defence was missing a key piece.