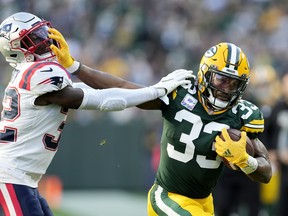 Article content
an you believe nearly a quarter of the NFL season is in the books already? It's flying by.
Article content
My Week 4 picks soared, for a change this season: 11-5 (.688). Best week yet.
Article content
So, trending in the right direction. Since that sub-.500 Week 1 disaster I'm picking winners at a .625 clip. Still not good enough (65% is my season goal) but getting there.
On to Week 5, whose weather looks splendid pretty much everywhere:
Article content
Indianapolis at Denver, Thursday
KRYK PICK: Denver
If you watched that miserable game (an Indianapolis 12-9 overtime win) in its entirety, my condolences.
N.Y. Giants vs. Green Bay in London, Sunday, 9:30 a.m. EDT
(CTV; TSN 4; via NFL Network)
KRYK PICK: Green Bay
Another early kickoff to a Sunday quadruple-header. Even if Giants QBs Daniel Jones (ankle injury) isn't hampered, take the Pack all the way. Expect another Jones to shine: Aaron.
Article content
Pittsburgh at Buffalo, Sunday, 1 p.m. EDT
(CTV Toronto, Ottawa, Kitchener; CTV2 BC, Alberta, Atlantic; via CBS)
KRYK PICK: Buffalo
Kenny Pickett makes his starting debut, in cool but pleasant weather, but as hostile a setting as a rookie QB could face. Steelers a two-TD underdog — first time ever. It'll be worse.
L.A. Chargers at Cleveland, Sunday, 1 p.m. EDT
(RDS; via CBS)
KRYK PICK: Cleveland
Only historically inept Detroit and nearly-as-bad Seattle are allowing more points per game than the Chargers. They've just allowed 252 rush yards combined to Jags and Texans. So yeah.
Houston at Jacksonville, Sunday, 1 p.m. EDT
KRYK PICK: Jacksonville
The Jaguars slaughtered the Colts and Chargers, then started up 14-0 at Philly before Trevor Lawrence turned it over six times. Jags head coach Doug Pederson called it a fluke. Yup.
Article content
Chicago at Minnesota, Sunday, 1 p.m. EDT
(CTV Winnipeg; via FOX)
KRYK PICK: Minnesota
The Bears' passing attack is historically futile to this point in a season. If it continues, Chicago's only other wins will come thanks to horrible foes or weather flukes. This is indoors.
Detroit at New England, Sunday, 1 p.m. EDT
(CTV Montreal, Saskatchewan, Atlantic; CTV2 Toronto, Ottawa, London/Windsor; via FOX)
KRYK PICK: New England
If Seattle could bulldoze the Lions defence for 235 rush yards, the Pats with their far more potent ground game might not need rookie Bailey Zappe to throw more than occasionally, for fun.
Seattle at New Orleans, Sunday, 1 p.m. EDT
(CTV BC, Alberta; via FOX)
KRYK PICK: New Orleans
Geno Smith and the Seahawks offence should quickly discover that the Saints defence, especially at home, is a far more ferocious animal than the pacified Lions they faced last week.
Article content
Miami at N.Y. Jets, Sunday, 1 p.m. EDT
KRYK PICK: Miami
Zach Wilson rescued the Jets from a low-scoring loss at Pittsburgh with a sharp fourth quarter. Even with Teddy Bridgewater QB-ing the Fish, back-to-back wins unlikely.
Atlanta at Tampa Bay, Sunday, 1 p.m. EDT
(TSN 3; CTV Northern Ontario; via FOX)
KRYK PICK: Tampa Bay
Falcons just scratched out a pair of wins. QB Marcus Mariota has been meh overall but occasionally clutch. Won't be enough vs. the re-focused Bucs, in the sizzling sunshine.
Tennessee at Washington, Sunday, 1 p.m. EDT
KRYK PICK: Tennessee
Just can't pick the Commanders anymore, given how they're playing. They'll win a few, but take those as loss-leaders for the many more wins you'll get if you always choose their foe.
Article content
San Francisco at Carolina, Sunday, 4:05 p.m. EDT
(TSN 3; CTV BC, Alberta; via CBS)
KRYK PICK: San Francisco
Panthers offence is ice-cold. Niners defence is on fire. Carolina's D actually is playing quite well too so far, but it can only do so much. Even if it's an 11-10 game, take San Fran.
Philadelphia at Arizona, Sunday, 4:25 p.m. EDT
KRYK PICK: Philadelphia
Kyler Murray is passing like crazy. When all his WR weapons return to the lineup the Cards might start putting up points like crazy too. But not now. And the Eagles are a 4-0 steamroller.
Dallas at L.A. Rams, Sunday, 4:25 p.m. EDT
(CTV from Saskatchewan east to Quebec; CTV2 Atlantic; via FOX)
KRYK PICK: Los Angeles
Cowboys defence is akin to San Francisco's, which just ate up the Rams offensive line and held L.A. to three field goals. Expect the Rams to play better and win a low-scoring battle.
Article content
Cincinnati at Baltimore, Sunday, 8:20 p.m. EDT
(TSN; CTV2; via NBC)
KRYK PICK: Baltimore
To protect their extremely poor pass-covering secondary (namely, any DB not named Marlon Humphrey) expect Baltimore to blitz the snot out of Joe Burrow — successfully.
Las Vegas at Kansas City, Monday, 8:15 p.m. EDT
(TSN; via ESPN)
KRYK PICK: Kansas City
Chiefs are back on track. Wow. After their big hiccup at Indy, they flexed all their offensive and defensive muscles at the Bucs. Raiders typically play well at K.C. so this might be tight.
BYES THIS WEEK: None. They start next week.
SEASON RECORD: 36-27-1 (.570), through Week 4.
KRYK: Russell Wilson — a sack-taking machine

KRYK: Thirty Thirties on Thursday — Week 5 edition