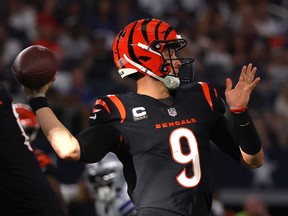 Article content
Who believed Jacksonville was that good? Or Denver, Las Vegas, New Orleans and San Francisco that bad?
Article content
We all are still trying to figure out these things in the early weeks of the 2022 NFL season.
Article content
I've been placing too much emphasis on teams' past accomplishments, or past futility, in making my picks thus far. At least, to steal a term that NFL coaches love to employ when they suck for too long, that's what 'self-scouting' has revealed to me.
Article content
I went 9-7 (.563) in Week 3 in picking NFL winners, straight up, not against the spread. Miserable season so far.
On to Week 4:
Miami at Cincinnati, Thursday
KRYK PICK: Cincinnati
Up to 3-1 on Thursdays. When Joe Burrow has been sacked early and often? Bengals 0-2. When he hasn't been sacked 'til nearly halftime (Jets) or later (Dolphins): 2-0. Got it?
Minnesota 'at' New Orleans in London, Sunday, 9:30 a.m. EDT
Article content
(CTV; TSN4; via NFL Network)
KRYK PICK: Minnesota
My newsletter pick was Saints. But Jameis Winston is doubtful (back, ankle), WR Michael Thomas is out, and RB Alvin Kamara and WR Jarvis Landry are questionable. Take Vikes.
Cleveland at Atlanta, Sunday, 1 p.m. EDT
KRYK PICK: Cleveland
Marcus Mariota leads the NFL's fifth-best rushing attack and ninth-highest scoring team. Honest. But Atlanta's defence is middling at best. And the Browns lead the NFL in rushing.
Buffalo at Baltimore, Sunday, 1 p.m. EDT
(CTV Ontario, Winnipeg, Saskatchewan, Atlantic; CTV2 BC, Alberta; via CBS)
KRYK PICK: Buffalo
The Ravens lead the league in scoring (33.0 points per game), the Bills rank third (30.3). Difference: Ravens rank dead last in yards allowed (458 per game), while the Bills are No. 1 (214).
Article content
Washington at Dallas, Sunday, 1 p.m. EDT
(CTV2 Atlantic; via FOX)
KRYK PICK: Dallas
Dallas' temp Cinderella QB Cooper Rush must be approaching midnight. But defensively Dallas leads the NFL with 13 sacks, and no QB has been sacked more than Carson Wentz (15).
Seattle at Detroit, Sunday, 1 p.m. EDT
(CTV BC, Alberta; CTV2 Toronto, London/Windsor; via FOX)
KRYK PICK: Detroit
Both defences are disasters. Offensively, it's the opposite of what you'd expect: Detroit ranks No. 3 in rushing (170 yards a game), Seattle No. 29 (75). Lions win despite all those injuries.
L.A. Chargers at Houston, Sunday, 1 p.m. EDT
KRYK PICK: Houston
L.A. has been losing key starters like a provincial-park beach's visitors. Houston can't stop the run (32nd) but L.A. can't run it (32nd). Justin Herbert is playing; WR Keenan Allen isn't.
Article content
Tennessee at Indianapolis, Sunday, 1 p.m. EDT
KRYK PICK: Indianapolis
If the Colts could knock off the Chiefs in large part because of robust defensive play, especially against the run, then they should be able to finally rise above .500, and vs. the Titans.
Chicago at N.Y. Giants, Sunday, 1 p.m. EDT
(TSN; CTV Montreal; via FOX)
KRYK PICK: New York
You do realize that if the Bears should win, they'd improve to 3-1. Which would be the real-world equivalent of flipping 100 coins and about 90 of them landing on their sides.
Jacksonville at Philadelphia, Sunday, 1 p.m. EDT
(CTV2 Ottawa; via CBS)
KRYK PICK: Philadelphia
Week's only matchup of teams with only one loss between them: Jags 2-1, Eagles 3-0. Almost everything is going exactly right for Philly. Can't bet against 'em, even vs. red-hot Jags.
Article content
N.Y. Jets at Pittsburgh, Sunday, 1 p.m. EDT
KRYK PICK: Pittsburgh
If Mitchell Trubisky can't play at least serviceably well, then calls for rookie QB Kenny Pickett will become deafening. Zach Wilson returns to QB the Jets; oh, he'll be blitzed.
Arizona at Carolina, Sunday, 4:05 p.m. EDT
(TSN; via FOX)
KRYK PICK: Arizona
Kyler Murray is so up-and-down it's hard to put much faith in the Cards to win on the road. His starting WRs might all be out. Unconfidently sticking with Wednesday newsletter pick.
New England at Green Bay, Sunday, 4:25 p.m. EDT
(CTV nationally except BC, Alberta, Atlantic; CTV2 Atlantic; via CBS)
KRYK PICK: Green Bay
With Mac Jones out a while with a reported high ankle sprain, does anybody believe backup Pats QB Brian Hoyer can keep New England competitive for long at Lambeau? LOL.
Article content
Denver at Las Vegas, Sunday, 4:25 p.m. EDT
(CTV Alberta, BC; via CBS)
KRYK PICK: Las Vegas
As last week, when I chose the Bengals over the Jets because I just couldn't envision Cincinnati opening 0-3, ditto the Raiders opening 0-4 by losing to the offensively inept Broncos. Nope.
Kansas City at Tampa Bay, Sunday, 8:20 p.m. EDT
(CTV2; TSN; via NBC)
KRYK PICK: Kansas City
Bucs offence not only struggled with all three starting WRs out for the past five quarters of play, but the run game dearly misses bursty Ronald Jones to complement Leonard Fournette.
L.A. Rams at San Francisco, Monday, 8:15 p.m. EDT
(TSN via ESPN; TSN 3 MNF w/ Peyton & Eli via ESPN 2)
KRYK PICK: San Francisco
Rams, on paper, win this game. Ah, but Niners coach Kyle Shanahan has Sean McVay's number, winning six of past seven meetings, with the only L coming in that tight NFC title game.
– – –
BYES THIS WEEK: None.
SEASON RECORD: 25-22-1 (.531).
@JohnKryk
KRYK: Bears punter Trenton Gill: 'Canada a big part of my upbringing'

KRYK: Thirty Thirties on Thursday — Week 4 edition