Why the native North Carolinian one of 14 NFL players wearing Canadian-flag decal on back of helmet, this week and next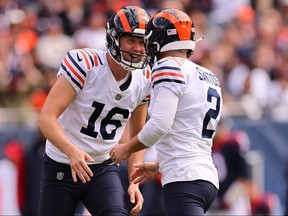 Article content
Chicago Bears rookie punter Trenton Gill was born in and raised entirely in North Carolina.
Article content
So why is he one of 14 NFL players who will wear a Canadian-flag decal on the back of his helmet, in games this week and next?
Article content
Here's why.
To coincide with the first International Series game of the NFL season — in England on Sunday between the Minnesota Vikings and New Orleans Saints — the league on Wednesday announced a first-time opportunity for players to celebrate either their personal or a parent's or grandparent's heritage, by having the flag of that foreign country or territory placed on the back of their helmet.
Article content
Gill's mother was born in raised in Sarnia, Ont., which also is where his English-born father was mostly raised. When the Bears' player-engagement coordinator Erika Marmolejo informed Chicago players of the league's helmet-sticker initiative, Gill said he jumped at it.
Article content
"It's awesome being able to have this opportunity to represent my heritage, where I grew up in the summers," Gill said Thursday in a phone interview. "Both of my parents are Canadian citizens, and I am as well.
"Canada has been a big part of my upbringing."
Who knew?
The 23-year-old's mother, Kristie Gill (nee Parsons), was born and raised in Sarnia, the Southwestern Ontario city connected by the Blue Water Bridge to Port Huron, Mich. — at the precise point on the St. Lawrence Seaway where all that descending water from Lake Huron and above begins to squeeze into the St. Clair River, then down through Lake St. Clair and the Detroit River, and into Lake Erie and beyond.
While attending Sarnia's Lambton College, Kristie met Mike Gill, who was born in the U.K. but who had immigrated with his family to Canada and Southwestern Ontario when he was a small boy. The couple married and eventually resettled in Hillsborough, N.C., a suburb of Raleigh-Durham in the north-central part of the state.
Article content
Trenton was born on New Year's Day 1999, and as far back as he can remember he spent a large chunk of every summer visiting relatives in Ontario — mostly in Sarnia where one of his grandmothers and oodles of cousins live, but also in Dresden (a town 10 km north of Highway 401 about midway between London and Windsor) where his other grandmother lives, as well as with an aunt in Ottawa.
"The majority of my family actually lives in Canada," Gill said. "So I would spend my time up there, and split it between the two (grandmothers), spending a couple of weeks each summer with each. It was awesome.
RECOMMENDED VIDEO
"I haven't been up there since before COVID, but before that, we even went to Toronto and watched a Maple Leafs game, which was cool."
Article content
To hear Gill speak, you'd never know he was from North Carolina. He doesn't have much of a perceptible southern accent, or drawl. Is that, perhaps, attributable in part to being raised by parents — and family every summer north of the border — who spoke with Canadian accents, eh?
"Yeah, I think so," he said. "It's strange, because I kind of have a northern accent according to people in the South, but I come up here (Chicago) and I'm told I have more of a southern accent."
He grew up in Hillsborough playing a lot of soccer. Football-wise, he dreamed of being the next Tom Brady. At Cedar Ridge High School he began excelling at kicking. That was his path.
Gill entered North Carolina State in 2017 — essentially his backyard university — and two years later got on scholarship. In 2019 he ranked third in the top level of NCAA football (FBS) by averaging a school-record 47.6 yards per punt. Over three seasons, Gill averaged 45.8 yards on 173 kicks. That's good.
Article content
Typically only 1-4 punters are drafted annually into the NFL; the rest sign as undrafted free agents. Gill was the last of four selected this year, in late April. The Bears took him with the eighth last pick of the draft, 255th overall, in Round 7, just one spot before Arizona selected outside linebacker Jesse Luketa of Ottawa.
Gill, who's huge for a punter (6-foot-4, 219 pounds), made his regular-season NFL debut in a veritable monsoon on Sept. 11, on the muddy grass surface at Chicago's Soldier Field.
Every punter in the league doubles as his team's holder on placekicks — a practice that allows the three exclusively tasked kicking specialists (the long snapper being the other) to work in unison, separately, during practices to fine-tune their timing, while offensive and defensive units practice alone or against one another on main practice fields.
Article content
Amid intense bursts of rain and wind in that opening-day defeat of the San Francisco 49ers, pressure indeed was on Gill and the other two Bears specialists, placekicker Cairo Santos and long snapper Patrick Scales.
Has Gill ever punted in worse weather?
"No," he said. "Very tough conditions."
What was more difficult — punting, or holding on placekicks?
"I put more pressure on myself for field goals, because I have other guys relying on me to help them do their job. The whole day I was just making sure I was catching the ball and having a clean operation after that (with the hold).
"The biggest thing with punting was catching the snap. I just took a little half-second to make sure I caught the ball, then I could do my punt after that. But I knew if I dropped it, or if I mishandled it, then everything else would be screwed up."
Gill said it was a helluva 'welcome-to-the-NFL' moment.
Through Week 3, Gill ranks third among five rookie punters (one was undrafted), and 15th league-wide, averaging 46.9 yards a boot.
Not a-boot. Per boot.
John Kryk writes a weekly newsletter on NFL matters. That's where you can first see his straight-up picks each week. You can have the newsletter automatically dropped into your email inbox on Wednesdays simply by signing up — for free — at