A call to our family's pediatrician this week proved to be the right choice, as an appointment was given for the next day.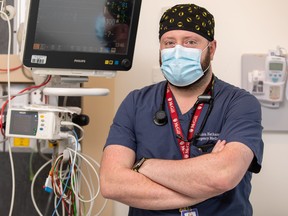 Article content
Its doors are open 24/7 but West Islanders should consider all the alternatives available prior to heading to Lakeshore General Hospital's emergency ward with non-life-threatening health concerns.
Article content
Like many hospitals in the Montreal region and across our province, the Pointe-Claire facility's ER is operating at overcapacity, in recent weeks often with an occupancy rate of around 180 per cent. The LGH has a functional capacity of 31 stretchers in the ER, but on some days there might be around 55 patients on stretchers, with as many as 20 of them waiting for over 48 hours.
These stretcher percentages don't reflect ambulatory patients seated in a busting ER waiting area and who might immediately leave after being seen by medical staff, noted Dr. Robin Nathanson, an emergency physician and co-chief of the emergency department at Lakeshore.
Unsure of where to go for care, people can call the 811 health information line (Info-Santé), which is staffed by qualified nurses who can evaluate non-emergency symptoms.
Article content
Those fortunate enough to have a family doctor or a pediatrician could also start there before heading to an ER.
There are also private network options, including Medistat Medical Clinic in Pierrefonds as well as Brunswick Medical Centre and Statcare in Pointe-Claire.
"At the end of the day, it's not that we don't want to see people at the emergency department. The message is really that we want people who can be safely seen in the community to be seen in the community. We want people to be aware of all their options. We are obviously open 24 hours a day for medical emergencies or anyone who needs to be seen. It's just really when there's something that they are not sure about, or if there are community resources for them, we want them to utilize them as much as possible," Nathanson said.
Article content
Staffing shortages at hospitals and the lack of access to family doctors are ongoing issues that contribute to ER overcrowding.
Last month, a local worker's union advised the public to avoid going to the Lakeshore due to a lack of staff, and a similar request was made in August 2020.
The LGH is looking to add a GMF unit onsite, which will help patients on a waiting list for a family doctor, Nathanson noted, adding similar university affiliated family medicine units exist at St-Mary's and the Jewish General hospitals.
The new $1.5 billion Vaudreuil-Soulanges hospital, with construction slated to start later this year, should also — in about six years — help ease pressure on the LGH.
Don't expect miracle solutions to ER woes coming from the province.
Article content
West Islanders can take steps to avoid the emergency ward by calling their family doctor, or by registering their name on a government waiting list for family doctors, and to consider walk-in clinics.
A call to our family's pediatrician in Dorval this week proved to be the right choice, as an appointment was given for the next day and then a diagnosis and prescribed treatment was provided within 30 minutes. To think I mulled other options, such as a potential long wait at the Montreal Children's ER, to deal with a non-emergency irritant while the solution was more accessible.
Our health-care system is not perfect, of course, but West Islanders should take note of all their options before heading to the ER on impulse.
Albert Kramberger is editor of the Montreal Gazette's West Island/Off-Island section.
Montreal ERs overcrowded as health-care staff shortages continue

Patients' advocates push back against Quebec's plan to partially close several ERs