'If my life ends tomorrow, it would be kind of perfect,' filmmaker says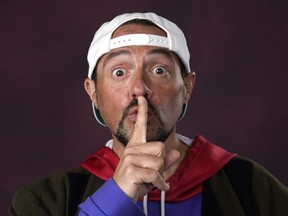 Article content
After nearly dying four years ago, filmmaker Kevin Smith is making the most of second chances.
Article content
As it turns out, the "widow-maker" cardiac arrest he suffered in 2018 was "the greatest gift" he's ever had. It inspired him to change his lifestyle habits, renew his friendship with Ben Affleck and provided the narrative inspiration for Clerks III — the third instalment in a series that started following a pair of convenience store workers (played by Jeff Anderson and Brian O'Halloran) in 1994.
Article content
"Having the heart attack was a very pointed reminder that we're all living on borrowed time. After the heart attack, things where I thought, 'I'll get to that later,' became a priority," Smith, 52, tells the Sun in a phone interview from Seattle.
The writer-director-actor immediately started work on Jay and Silent Bob Reboot (revisiting two supporting characters from the original Clerks who went on to appear in other films in his View Askewniverse) before turning his attention to the one story he had been trying to make for the past 12 years — Clerks III.
Article content
"There was a moment where it was all going to end and my last movie would have been Yoga Hosers. Thank God I lived long enough to make Jay and Silent Bob Reboot and Clerks III. If I go out on Clerks III, no problem. I'm walking into traffic without looking in either direction because, if my life ends tomorrow, it would be kind of perfect."
Now, Smith jokes, he'll probably end up making movies people don't like.
"Then I'll have to try and rescue my career, which seems to be the motif of my life."
The latest entry follows Randal (Anderson) after he suffers a massive heart attack. That close call gives him the courage to follow his dream and make a low-budget, black-and-white film based on his convenience store life with Dante (O'Halloran), Becky (Rosario Dawson), Elias (Trevor Fehrman), and the two stoners who hang around out front — Jay (Jason Mewes) and Silent Bob (Smith).
Article content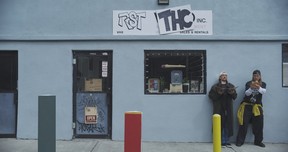 "The original version I was trying to make was the King Lear version of Clerks III. It was a movie about death from a guy who hadn't come close to experiencing that yet," Smith chuckles. "Post-heart attack, suddenly I realized that movie was artifice."
The finished film, which Smith will screen this week in Toronto and Ottawa as part of his nationwide roadshow, dubbed The Convenience Tour, turns out to be Clerks-like, with Randal and Dante recreating the black-and-white original almost note-for-note.
Affleck, who became a mainstay of Smith's films starting with 1995's Mallrats, shows up in a scene-stealing cameo.
"Having Ben back is just a delight," Smith says.
Now, 28 years after it screened at the Toronto International Film Festival, Smith returns to Leonardo, N.J., with the most meta story he's told so far in a career that also includes Chasing Amy (1997), Dogma (1999), Jay and Silent Bob Strike Back (2001), Jersey Girl (2004), Zack and Miri Make a Porno (2008), Cop Out (2010), Tusk (2014), Yoga Hosers (2016) and Jay and Silent Bob Reboot (2019). As he puts it laughingly: "Our movie is definitely the snake eating its own tail while fellating itself at the same time."
Article content
In a recent conversation, Smith discussed the newfound relevance of Clerks III and reflected on what young Kevin would think of where he ended up.
Kevin, when we first spoke nearly a decade ago, you told me you had a script written for Clerks III and it was going to be your best film ever. What changed?
"It's still my best movie, just with a different version of the script. Clerks is an insanely authentic movie because it was made by a kid who dreamed of being a director, but was working in the store he was shooting in at night. It's earnest as hell and it was based on my life. The next movie I made in the series — Clerks II — is a movie I love, but it's complete artifice … That was Clerks fan fiction. Clerks III goes back to the original formula, which is me strip-mining my life. It's an insanely autobiographical movie, not just because of the heart-attack angle, but because it goes over every angle of my life thus far. Because of that, some (critics) are saying, 'My God, he's got his head up his own ass.' But there's a fun meta aspect in watching the clerks make Clerks."
Article content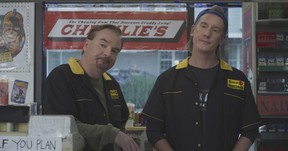 Why do you think those characters endured?
"I honestly feel like it's because the boys are crazy-easy to root for. They came into the lives of the audience at a special time — when they were in college or when they were living in their parents' house and striking out on their own. So there's an emotional attachment to Randal and Dante in the same way that I had an emotional attachment to the Star Wars characters. They were such a big part of my youth and informed who I would be. Whenever we bring the boys back, it's like you're bringing family home."
Ben Affleck plays a foul-mouthed guy named Boston John in this. Where did he come from?
"Boston John is based on a guy that used to comment on the View Askew message board of my website in 1998. Ben was fascinated with this guy. I used to interact with fans on there and there was a regular named Boston John who used to make posts. As is the case in any web-based community, people who have been there from the beginning feel like it's all changed because new people come in and whatnot. Boston John went on a rant one day and he told me to shut the message board down. Ben found that so funny. He couldn't understand how a stranger on the Internet was telling me to shut down my message board. So he started going on as Boston John the Pimp and tell me to shut s— down. He'd be on there writing, 'Kev, the board is s—, shut it down!' So when he showed up and I handed him the script, I said to him, 'You've been rehearsing for this your whole life.' "
Article content
Hopefully the real Boston John is still alive to see this.
"I hope so. In the early days there were two filmmakers on the Internet talking to the audience. It was me and Peter Jackson and one day Peter Jackson said, 'If I stop talking to the audience, maybe I'll win a bunch of Oscars.' He did the right thing. I've never stopped having that conversation."
Let's change gears. What should be done about Superman on the big screen?
"I don't understand why anyone sees Superman as problematic. They're doing a great job on the CW with the Superman & Lois show. They prove on a regular basis that Superman is a character that is easy to handle if you write him well. He's the DC Comics version of Jesus for heaven's sake. I don't understand why it's easy to repeat Batman stories and you struggle at the crossroads of Superman. I get that some writers find it hard to tell a story about a guy who can do anything except get past a magic green rock. But they should give it to a hungry writer — there are so many great Superman stories that have been written over the last 70 years. It can be done. They write Superman every damn week at DC Comics. So I don't understand this idea that he's a tough nut to crack cinematically. The idea of a hero that will put on a cape and do good helped launch so many other heroes. I'll never understand why they can't get their s— together and make a Superman movie."
Article content
I was at the Clerks screening at the Toronto Film Festival in 1994 and I remember thinking that I was witnessing the birth of a creative genius. What would young Kevin think of where he ended up?
"He'd be flabbergasted. I didn't have enough faith or belief in himself to see this far. I thought I was only going to be able to make the one movie and that's all I would do. But I did all these things — I became a podcaster and a writer and live performer and went into TV. I diversified. Young Kevin would have been stunned. For that kid, making the first Clerks was the moonshot. But I would just like to take him to the Grauman's Chinese Theatre and show him the footprints. When I was nine, we went to the Chinese Theatre to see the footprints of some of the Star Wars characters, and when we were about to leave, my dad said to me, 'Maybe you'll be here one day.' Forty years later, I did wind up getting my hand and footprints outside of the Chinese Theatre. I never saw that coming in a million years. So I think young Kevin Smith would be beyond pleased. But he'd be baffled by Clerks III. He'd ask, 'How did you do that without Dante? I killed him.' Then I'd have to explain to him that in order to get where we are I had to compromise his vision a little bit."
With Clerks III, are you firmly shutting the door on these beloved characters?
"As long as there is breath in my lungs, there's always a chance for another Clerks."
The Convenience Tour hits Toronto on Oct. 11 and 12 and Ottawa on Oct. 13. Clerks III is available for digital purchase and rental on Oct. 14.
Kevin Smith on coining 'Bennifer' and why he'll never escape 'Clerks'

Kevin Smith talks 'Man of Steel' and 'Clerks III'