Kenney said he's increasingly seeing what he calls 'populism with a snarl,' a political ideology fuelled by anger and conspiracy theories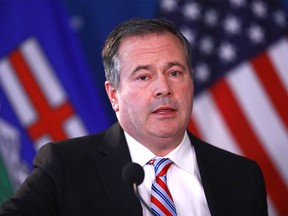 Article content
As his time as Alberta's premier ticks down, Jason Kenney is warning a rising tide of fringe, anger-motivated politics is taking hold of conservatism in Canada.
Article content
It's an outgoing volley from Kenney at the end of his 3½ years as premier and leader of the governing United Conservative Party, days before his successor Danielle Smith will be sworn into office.
Article content
In an interview with Global's The West Block, Kenney said he's increasingly seeing what he calls "populism with a snarl," a political ideology fuelled by anger and conspiracy theories which he charges is not conservatism.
He said social media played a role in amplifying those views, as did former United States President Donald Trump, adding "COVID put that on steroids."
"I think there is a small but very energized faction of the public here in Alberta and elsewhere who right now are frankly looking for recrimination on COVID and vaccines and issues like that, these globalist conspiracy theories which are circulating," Kenney said.
Article content
"If the conservative movement or parties become characterized by these deeply angry and destructive views, I think the movement will lose every right to be a governing party."
Kenney announced his intention to step down as UCP leader and Alberta's premier in May after securing a tepid 51 per cent support in a review of his leadership.
Danielle Smith defends plan to hold byelection in Brooks-Medicine Hat but not Calgary-Elbow

UCP caucus presents united front following Smith's leadership win

Smith will need to show she can win broader public support, political experts say

'I'm back': Danielle Smith elected UCP leader, Alberta's next premier
The ousting came in the wake of more than a year of venomous UCP infighting, both within caucus and among party members. Much of that vitriol centred on the government's response to the COVID-19 pandemic, which involved public-health measures meant to stem the spread of the virus — including a vaccine passport — but which stopped short of a full lockdown.
Article content
The outgoing premier attributes the pandemic to much of the turbulence, but he also conceded he took a "naive or idealistic view" on how to handle his caucus.
Kenney modelled his caucus on the British Westminster system, which gives politicians significantly more latitude to disagree with their party's views than is typically seen in Canada. But that approach led to internal dissent building into a party divide which proved irreparable under Kenney.
"I kind of took a textbook, old-school, British approach to that. I now think in retrospect that was wrong, particularly in the crisis of COVID," Kenney said, adding he would take a more strict approach similar to former Prime Minister Stephen Harper or current Ontario Premier Doug Ford if he were able to go back.
Article content
Kenney went on to say he felt he was unable to connect with a subsection of the population during the pandemic, with some unwilling to believe its impact on hospitals because they're getting their information through an "alt-right anger machine."
"I found through COVID an inability to communicate basic facts to a certain element of the population, and I don't know how to remedy that," he said.
Smith won UCP leadership Thursday night on the sixth and final ballot, edging to victory with a 54 per cent vote share. She immediately became premier-designate, and will be sworn in as premier Tuesday.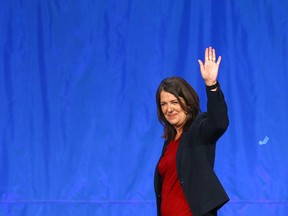 Her campaign seized on grievances of UCP members, particularly on the party's right, hammering on Alberta's relationship with Ottawa and COVID-19 response as her key messages.
Article content
The approach galvanized supporters but drew criticism from some fellow conservatives, including Kenney, who tore into Smith's proposed Alberta Sovereignty Act. Smith says that legislation would allow the Alberta government to ignore federal laws and decisions at its discretion.
In her victory speech, Smith called for unity on the right in the months ahead, as the UCP prepares to take on the Alberta NDP in a general election set for May 2023.
When asked whether a Smith-led UCP can win an election, Kenney didn't answer directly, but said he believes "a mainstream conservative party" can defeat the NDP.
"I think a conservative party or government that is focused on a campaign of recrimination over COVID, politicizing science, entertaining conspiracy theories, campaigning with QAnon, is a party that can't form government and shouldn't," Kenney said.
Kenney wouldn't specify what's next for him after leaving politics, but said he's anticipating opportunities in the private sector.
"You haven't heard the last of me yet."
Twitter: @jasonfherring