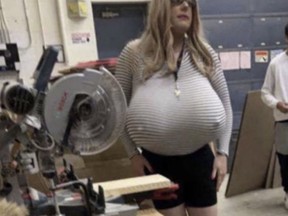 Article content
Kayla Lemieux may no longer be in the classroom at Oakville Trafalgar High School, but students, staff and parents remain in the dark as to whether the shop teacher could one day return.
Article content
If not at OTHS, perhaps at another school?
Article content
While the Halton District School Board has indicated the 39-year-old male teacher — who claims to be intersex, identifies as a female and insists large breasts are from a rare condition and not prosthetics — has said Lemieux is no longer assigned to a school, it's unclear what happens next.
Could the teacher be reshuffled somewhere else?
For this reason, the Students First Ontario group that pushed the board to deal with the Lemieux situation and has been pressing for a new set of rules revolving around professional representation in the classroom has started a new GoFundMe campaign to help pay for legal fees.
WARMINGTON: The Kayla Lemieux show cancelled; no longer at Oakville school

WARMINGTON: Halton school board fails to put 'safety of students first,' say MPPs

LILLEY: Halton teacher with huge fake breasts may just be punking us after all
Article content
Celina Close, one of the organizers who appeared on Newstalk 1010 Thursday morning with John Moore and later spoke to the Sun, made the point that "this was never about Kayla Lemieux" but "always about the students in the classroom, their future, their safety, their learning."
Thanks to the international circus that was the Lemieux story, all of those things the school was supposed to be about for the kids, it no longer was.
"Students were terrified," said Close.
Now the board has to clean up the mess that was left behind. But it's the same people who caused the disaster that are now the one's who will fix it.
Close said parents are skeptical.
And parents across the province are expressing concern as well.
One parent of an 11-year-old has come forward with an example at the Upper Grand District School Board in Guelph where in the middle of the Lemieux saga Grade 6 students were asked to do a book report on several books including one called L'Ouragan et moi, which in English translates to The Hurricane and Me.
Article content
A translation of the explanation of the book from the publisher states: "My father knew from a very young age that he was a girl, not a boy. We, my mother and I, we didn't know… Louis had kept that in the bottom of his heart, like a really secret secret. Not a little secret like a piece of cake eaten on the sly, no. A real secret that we keep to ourselves because it is too big to be shared. So, in 2013, Louis gave way to Ingrid. But not everyone understands the situation, so Philemon is sometimes teased at school.
The parent told The Toronto Sun that there's nothing wrong with an author writing about "a biracial family" where "the white father decides he wants to now be a white women" and the "son is so happy he now has two moms."
But what is wrong is that the "parents were not told about it" and found it in the child's school bag.
Article content
"Our kids have missed so much school with the pandemic, we have that Oakville teacher being allowed to teach our kids wearing that outrageous outfit and now our kids are having to read books like this and give a presentation" while parents are given no heads up about.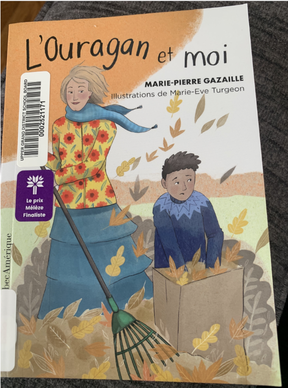 Just like with what happened In Halton, this parent said there is a feeling of helplessness.
"I feel that if I reach out to the school or school board, I'll be called transphobic and my kid may be punished."
We did reach out to the  UGDSB three times Thursday but have yet to hear back.
The student did not do the report on this book.
But parents wonder just what will happen in their kids' classroom next.