'Totally disrespectful and clearly classless'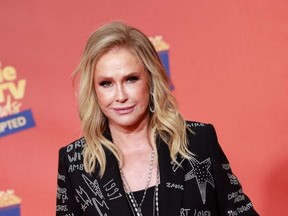 Article content
Mariska Hargitay might have taken home the 2022 People's Choice Award for Drama TV Star of 2022, but it was Kathy Hilton who hogged the spotlight during the Law & Order: Special Victims Unit actress' impassioned speech.
Article content
As Hargitay paid tribute to the "special connection" she shares with her fans, the Real Housewives of Beverly Hills star went viral on social media for looking bored in the background as she rifled through her purse looking for her lipstick.
Article content
"Kathy Hilton reapplying lipstick while on stage during Mariska Hargitay's heartfelt thank you speech is the epitome of rude and shows she is so full of herself," one fan tweeted.
"Kathy Hilton putting on lipstick while someone gives an emotional speech is what keeps me on my couch," another added.
"All your money and you still are so tacky," a third chided. "Applying lipstick during someone's acceptance speech is low class … You couldn't even bother not to look bored as hell while you were on camera."
Article content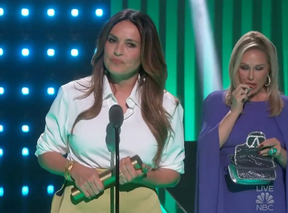 As Hargitay, 58, continued to implore watchers to "choose kindness," Hilton could be seen visibly sighing in the background.
"I love this award so much because of the two words in it," Hargitay said. "These two very, very important words that make this experience of life so extraordinary. 'People,' and that's people from all origins, ethnicities, creeds, gender, identities, that make this whole glorious mix of all of us that is the human race. And the second word that's even more important is 'Choice.' So I just want to celebrate our ability in all of us, the willingness in all of us, to choose kindness and compassion and courage and to choose to listen and to learn and to build a bridge between our differences and our divides. That's more important than ever right now."
Article content
"You can't make this up," one user observed along with a cry-face emoji, with another calling the moment, "totally disrespectful and clearly classless."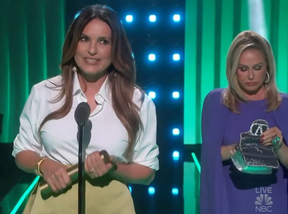 "What an unbelievable honour this is," Hargitay said to the audience. "I have to say I'm honoured for a few reasons, but one of them is because I have such a different and special connection with my people. With my fans. It's such a deep and intimate and personal connection because we all carry so much. Thank you for this."
Elsewhere during the broadcast, Hilton played a round of Celebrity Family Feud with her RHOBH castmates in which she poked fun at the drama that erupted when Lisa Rinna opted for Kendall Jenner's 818 tequila over Kathy's Casa Del Sol brand.
When host Kenan Thompson asked the ladies what's "something you shouldn't do at a party," Hilton shot back, "Do not show up early and don't not drink my Casa Del Sol tequila."
Article content
Meanwhile, Shania Twain paid homage to her 1998 hit That Don't Impress Me Much by resurrecting her leopard print outfit from the video on the red carpet. She also swapped out the Brad Pitt line for Ryan Reynolds' name instead during a live performance of the track.
Article content
"This may be the best thing that's every happened to me," Reynolds wrote in a reaction posted to his Instagram Stories.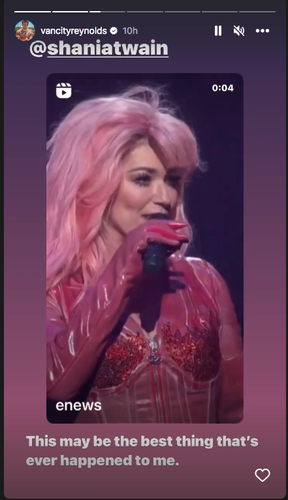 As she accepted the Music Icon Award, Twain movingly paid tribute to her mother and honoured her fans.
"I always miss my mother at these moments in my life," Twain said emotionally. "She would have loved watching her little girl living this moment right now. But you know what? My fans, my friends, my team, you are the ones who really fill that space. I mean, not my mother's space, but I just think that you're here with me, and we're celebrating together, and you've made me feel loved and special my whole working life and I'll always be grateful for that."
Shania Twain embraces acting and getting older: 'Aging comes down to attitude'

Ryan Reynolds talks Spirited, overcoming his bad singing and buying the Ottawa Senators