Aidan Cha, 10, and Yekta Gol, 12, were the winners of an essay contest that earned them the title of junior reporter for the day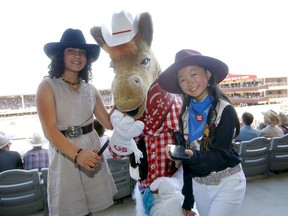 Article content
Two Calgary youth had the chance to go behind the scenes at the Calgary Stampede on Thursday as this year's BMO Junior Reporters.
Article content
Aidan Cha, 10, and Yekta Gol, 12, were the winners of an essay contest that earned them the title of junior reporter for the day, granting them special backstage access of many of Stampede's attractions on BMO Kids Day.
They started the day off early at the Stampede Grandstand, taking part in the Kids Day show.
The pair were interviewed on stage. While that would make more than a few kids or adults nervous, Yekta said she loves public speaking and felt right at home.
After squeezing in a few rides at the midway, the pair got to visit nearly every corner of the grounds, including the rodeo.
"We went to the agricultural centre, and it was really good because you went behind the seats and you saw the animals and how they were fed how they were held, and their preparations for the Stampede," said Yekta. "And it was really good because I don't think anyone else would have the opportunity to do this."
Article content
Aidan also loved going behind the scenes at the agricultural centre. She said her favourite part of the day was the midway and getting to eat a fried pickle.
After getting to try out the job for a day, both girls say they're not sure if they'd like to be full-time reporters someday.
"I don't know what I should do when I grow up, but I might be pretty good at being a reporter." said Aidan. "So I might be a reporter someday because I love writing."
Yekta said she has her sights already set on becoming CEO of a company, but she feels she learned a lot of good skills during her work Wednesday that will prepare her for that job.
"I'm just really glad and grateful to have this opportunity to be here right now and being able to experience in this day," she said.