Let's talk about preventing sun damage, understanding that it's not reserved for blonds and redheads.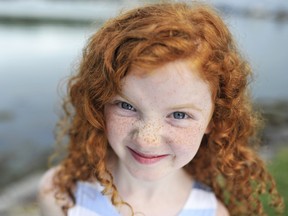 Article content
"Where'd you get those freckles?" is a thing people say to kids all the time. Other hits include "Where'd you get those curls?" and "Where'd you get all that red hair?"
Article content
Your child probably has no idea where their curls and freckles came from and might be suddenly shy or feel singled out when they're faced with that question from a grownup.
We don't condone snark replies like "Ten-ninety-nine on sale at Target," clearly. Yet we can tell you a little about freckles and how important it is to take care of them — and your child's skin in general when you're out in the sun.
"Freckles are patches of pigments under the skin," said Marie-Michèle Blouin, a dermato-oncologist at Centre Hospitalier Universitaire de Québec, and their scientific name is ephelides. They usually show up in childhood on fair-skinned people with blond or red hair and often fade later in adult life.
"People with freckles are more susceptible to skin cancer and they are more prone to sun damage from UV exposure. Melanoma is more frequent in people with freckles, so sun protection is a must for people with ephelides."
Article content
We asked Blouin to talk a little bit about sun care, and it's important to understand that protection from the sun isn't reserved for blonds and redheads.
"While black skin offers a natural protection against UV damage, no one is immune to the harmful effect of sun rays," Blouin said. "Although they won't get a sunburn as quickly as a Caucasian person, they will still burn and can get skin cancer. … The same recommendations apply to all children regarding SPF and broad coverage sunscreen."
Studies suggest that skin cancers are diagnosed at a later stage in Black people and people of colour, negatively affecting survival rates.
While you're standing in the sunscreen aisle trying to make a choice, you should know that the SPF emblazoned on the front refers to the amount of UVB protection it provides.
Article content
"The SPF number tells you how long the sun's UV radiation would take to redden your skin when using the product as directed versus the amount of time without any sunscreen," Blouin said. "Ideally, with SPF 15 it would take you 15 times longer to burn than if you weren't wearing sunscreen. Parents should choose an SPF of 30 or more for their kids, but what is really important is to choose a sunscreen with broad spectrum coverage against UVA and waterproof properties.
"Regardless of the SPF, though, it's important to apply two tablespoons 30 minutes before going outside and reapply it every two hours or immediately after swimming or sweating."
Acne-prone teenagers might need a sunscreen that doesn't irritate the skin, clog pores or leave a greasy residue. Check the ingredients list; you might have to experiment before finding the perfect sunscreen for their skin.
"Sunscreen is part of the sun protection strategy, but is not the only thing parents should do to protect their kids against the sun rays," Blouin said. "Seeking shade and covering up with clothing are two other important things. We recommend wide-brimmed hats and sunglasses as well."
Sign up for our new parenting newsletter at montrealgazette.com/newsletters.
Christopher Labos: Sunscreen shouldn't be a DIY project

Below the surface of a skin disorder often lies depression, low self-esteem and anxiety