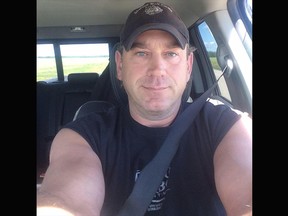 Article content
Manslaughter suspect Victor Braima walked from a Calgary courtroom a free man Thursday as a city judge acquitted him in the fatal shooting of a Saskatoon tourist.
Article content
Court of King's Bench Justice Alice Woolley said the Crown failed to prove Braima was a party to the robbery of Sheldon Wolf, which turned deadly.
Article content
Woolley said the four potential grounds the Crown presented to find Braima guilty in the fatal shooting by his friend "Chemakie," believed to be Sharmarke Mohamed who was identified by police as a person of interest, failed to persuade her he was a party to the crime.
Crown prosecutor Janice Walsh argued there were four different ways Woolley could find Braima guilty in Wolf's Feb. 2, 2020, shooting death.
But Woolley said she could not find Braima had a common intention with Chemakie to rob Wolf, that he aided and abetted in the robbery, that he took part in a drug transaction knowing they are inherently dangerous and can lead to injury, or that by aiding and abetting in the drug deal when bodily harm was objectively foreseeable.
Article content
The judge said the evidence fell short of establishing Braima and his friend had a common intention to rob Wolf, or that he knew of the robbery plan and assisted his friend to carry it out.
Woolley also said there wasn't enough evidence to find the accused's involvement in brokering a cocaine deal between Wolf and Chemakie made him guilty as a party.
"The Crown argued that drug transactions are inherently dangerous. They always bring the risk that someone will have a firearm," Woolley said in oral reasons which supplemented a more thorough written decision.
"As such, when you middle a drug transaction like you did, then you know or should know that other crimes creating risk of bodily harm are probable," the judge said.
Article content
"The problem with the Crown's position though is that the evidence does not show that drug transactions were so inherently dangerous that a violent crime is a probable consequence."
While police named Mohamed as a person of interest early in their investigation, he has never been located.
Woolley said that while Braima made some bad decisions, which ultimately led to Wolf's fatal shooting inside the accused's car in a downtown alley, they didn't make him responsible for the crime.
"The death of Sheldon Wolf was tragic, violent and cruel. It was wrong," the judge said.
"Mr. Wolf was a farmer. He kept bees. He was a pilot. He had a new wife whom he loved. His family and friends have suffered a loss that cannot be fixed."
Article content
Woolley said the evidence established Braima arranged for Wolf to buy drugs from Chemakie, helped to dump Wolf's body at a remote location and took steps to hide his involvement and destroy evidence.
"It does not, though, show that you are legally responsible for Mr. Wolf's death."
Outside court, Braima declined to comment on Woolley's decision.
But defence lawyer Andrea Urquhart said he was relieved.
"Mr. Braima is grateful to have been found not guilty by the court," Urquhart said.
"He has maintained his innocence since he was charged with this offence and he is relieved the court accepted his evidence as to what occurred on the night Mr. Wolf was killed."
On Twitter: @KMartinCourts