We're in a strange Montreal club: federalists, sovereignists, conservatives and liberals — but all city folk who embrace both French and the world.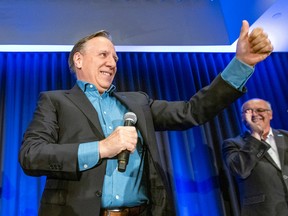 Article content
The Quebec election was called eight minutes after the polls closed, perhaps a Guinness World Record for the fastest majority government ever announced — not counting countries where they declare the winner way before the polls close.
Article content
Or without opening them at all.
Article content
The results are hard to ignore, with a vast blue CAQ wave across the province, except in Montreal where they got just 18 per cent of the vote.
It's a new "two solitudes": city mice versus country and suburban mice — reminiscent of the blue cities in red states to our south.
In fairness, our anti-CAQ city solitude is divided, too, between federalist Liberals, separatist Québec solidaire-istes and anyone-else-but-Legaulters. Yet it's united in distrust of this government.
I spent election night at a large gathering of mainly English-speaking 30- to 40-somethings who hissed when the PQ leader won his seat, cheered when the Conservative one lost his and groaned as the CAQ lead grew.
Many were young, left-leaning bilingual anglos who like Québec solidaire for its NDP-style social policies and openness to immigrants. They just ignore its separatist message. They're nouveaux anglos who embrace French-speaking Quebec and are comfortable with those different from them.
Article content
Many young Montreal francophones I meet are similar because unlike earlier generations, they attended school in post-Bill 101 Quebec. They were surrounded by schoolmates from everywhere on Earth who spoke French and became their pals, or lovers.
They're also internet globalists, eager to know English, which more than half of them speak. So let's hope that as they grow up the province changes with them and us.
It reminds me of the early 1980s when I helped write the Anglo Guide to Survival in Quebec. Before Bill 101, we non-francophones were largely separate tribes: Greeks, Italians, Jews, Blacks, Irish and more.
But Bill 101 united us all by redefining us as "anglophones," a term we never knew before that made us sound like a telephone brand. But next thing we knew we were brother and sister anglos in spirit, sharing a new identity.
Article content
I even recall a very Protestant colleague at the time saying: "It's so exciting. I finally feel like a threatened minority. I'm ethnic at last!"
Something similar may be happening now in Montreal, where most people are at home with immigrants, other ethnicities and each other, no matter how the rest of Quebec feels.
The premier has united us in a strange Montreal club: federalists, sovereignists, conservatives and liberals — but all city folk who embrace both French and the world.
That's the future. When it comes to immigration, Legault is King Canute fighting back waves of newcomers that all of Quebec needs to keep stores open, hospitals running, schools filled with teachers and our economy alive.
Some anglos still talk of separating Montreal: an impossible, divisive and pointless dream. If anything, the rest of Quebec needs more Montreal, and they'll inevitably get it.
Article content
Many more immigrants will eventually come, spread throughout Quebec and as in Montreal become classmates, colleagues, neighbours and friends of local francophones.
Their children will marry francophones and have kids, most of whom will eventually live in French. Their rural neighbours will come to like and even love them, including those who wear hijabs.
But if this government keeps marginalizing immigrants and blaming them for Quebec's ills, as in the election, it will only drive many into our open anglo arms and make them more eager to embrace English.
On election night, Premier François Legault finally tried to unify us, calling us all Quebecers and speaking a few sentences of forbidden English. This after cynically bashing Montreal, immigrants and "others" throughout the campaign.
Article content
We'll soon see who the real premier is. Will he soften Bill 96 and loosen elements, like the six-months-to-learn-French policy, a fantasyland for immigrants wrestling with 100 challenges in a new country?
If this program ever actually worked, Quebec would become today's Berlitz, selling instant language courses to the world.
"Learn French (or any language) IN JUST SIX MONTHS — while you search for a home, apply for jobs, explore a new city and emotionally get over leaving your homeland.
"Quebec Insta-French! You can learn it in your sleep! (because you won't have time in your day)."
Meanwhile, for most of us "historic anglos" the election won't make much difference, apart from the odd lease we may need translated into French. But it artificially divides us in this intimate, soulful city where we all get along well.
Article content
Last week I was in Toronto, which keeps growing and growing, incredibly successful but exhausting. It's a city its residents like and admire but rarely say they love, as many Montrealers do of our town. As a longtime Ontario-born Torontonian told me:
"Toronto is a big, admirable but unexciting city. It's the guy your mother wants you to marry. But Montreal is the city you don't tell your mother about. It's fun!"
So hang in there, put the election out of your mind and enjoy the town you live in and love, despite its literal cracks.
Then wait patiently for the rest of the province to catch up.
Fariha Naqvi-Mohamed: After the Quebec election, steeling myself for another four years

Martine St-Victor: Let's be more demanding of politicians