Electronic finders are a godsend, but people-tracking apps are somewhat creepy to those of us from an older privacy-loving generation.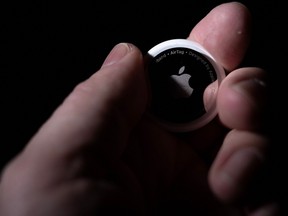 Article content
My son Daniel was at the YMCA recently and when he returned to his locker, his earphones were missing.
He figured he'd dropped them nearby so he checked his phone, which electronically tracks and finds his earphones by their GPS location on a map.
Article content
To his surprise they weren't in the gym at all, they were moving down a street nearby.
So he and a buddy raced outside to pursue his headphones through the streets, like old-fashioned hunters, following electronic tracks instead of animal tracks.
Article content
They followed the earphones on his phone's map for several blocks until the E-trail stopped cold outside a coffee shop.
As they entered the place my son pressed his phone's other feature — an earphone finder alarm — and heard something chirping briefly across the room. Then someone obviously silenced it.
He moved in that direction, pressed the alarm again and heard a silenced buzz at one table, where two guys looked uncomfortable.
My son (6-foot-2) approached and politely asked if they'd possibly found some earphones, since his GPS tracker showed them there and they were still buzzing.
One guy sheepishly pulled them out and murmured, "Yeah, we found them outside the Y and were going to post a notice online."
My son took the earphones and made literal tracks.
Welcome to the future of lost and found where finding your stuff may be easier than losing it, whether you're looking for stolen electronics, lost wallets, misplaced cars or a missing spouse.
Like many people, I'm often hunting for my phone or wallet, or helping find my wife's handbag — and new electronic finders are a godsend.
Article content
I've bought several Apple AirTags, small metal trackers I've attached to my key chain, wallet and luggage so they're always being followed electronically.
I just press my phone's "Find My" feature and it locates my AirTagged house keys wherever they are: under a cushion or seven kilometres away, on the 51 bus. Then they chirp when I finally arrive nearby.
I recently found my lost wallet in the dark, black hole between my car seats — now I'm wondering if all my missing single socks are in there, too. Maybe yours?
But it's not just stuff you can locate. Find My Friend apps are also becoming very popular. They track people you know, by their phone's GPS location (if they agree to share it).
"Helicopter" parents are being replaced by Find My Kid-obsessed parents who track their whole family's locations 24/7 — from school to friends' homes. Some finder apps even send live Family Safety text messages like:
"Marcus has just arrived safely at Jordan's house from school. WHEW!"
Or: "ALERT: Your daughter Susan is in your car and driving 3 km/h over the speed limit."
Family tracking often doesn't stop with adulthood, as many parents keep spying on their 33-year-old's latest dinner date location. Or the town he and his girlfriend have secretly fled to for a romantic escape.
Article content
Son: Huh!? What are you guys doing here in Ontario?
Dad: We saw on our GPS you guys were driving toward Niagara Falls and thought — they must be eloping! — so we came to party!
Son: Dad, we're just here to see the falls, alone!
For many 20-somethings, Find My Friend trackers are becoming central to their social life. They have dozens of friends' locations permanently being tracked on a global map, again with everyone's permission.
So wherever you are in town, or the world, you can see who's nearby for a spontaneous meetup. It has been called "affectionate stalking."
This also reduces anxiety when meeting pals somewhere like a movie. No need to keep texting to ask how late they'll be. You can see them moving on your phone's GPS map … or more likely NOT moving, stuck in construction on Ste-Catherine St.
Finally, when going to a party and wondering when to arrive, you can check your close friends' GPS locations to see if they've arrived yet, so you know if you should show up now … or at all.
On the downside, you might see all your friends have gathered somewhere else, and you're not invited.
Article content
This people-tracking stuff is somewhat creepy to those of us from an older privacy-loving generation, whose parents and pals never knew where we were. However, I do have some things I like electronic help finding.
As a directionally-challenged person sometimes known to forget where I parked my car, I no longer worry. My phone automatically records where I've parked and flashes a map with an arrow saying: "Your car is here, (dumbbell)!"
I also misplace my phone pretty regularly, then ask whoever's nearby to: "Phone my phone, please." But now my phone has learned another new trick.
I just shout: "Hey Siri, where are you?" Then my phone answers: "I'm here! I'm here!"
What next? I'm forever misplacing my glasses and wish they'd invent tiny GPS trackers to stick on them, too. I look forward to a day when I can shout into my phone: "Hey, glasses, where are you?"
And then hear my glasses reply: "I'm here, Josh! I'm here! … On your head!"
CORRECTION: Last week's column mentioned Chez Delmo in a list of former restaurants we recall nostalgically. I've just learned it eventually returned to life and is now doing swimmingly.
Related Stories
Josh Freed: Readers chime in about the good old days

Josh Freed: City hall snubs Montrealers again and again