Averting tragedies like the James Smith Cree Nation stabbing spree means focusing on economic opportunity, health and education.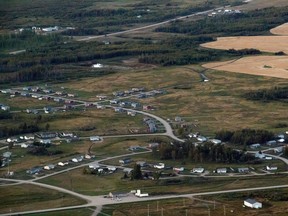 Article content
Gabriel Wortman, who killed 22 people in Nova Scotia in 2020, was white. Myles Sanderson, who is suspected of killing 10 people and injuring 18 in the James Smith Cree Nation east of Prince Albert, has Indigenous ancestry.
Article content
We have no insight into the factors that predispose people to go on a killing spree. Pathological killers are, fortunately, very rare among all ethnic communities.
Article content
However, there is more to this tragedy than analyzing the psychology of Myles Sanderson. Over the three years from 2017 to 2019, pre-COVID, the average annual number of homicide victims in Canada was 673.
A quarter of all victims were Indigenous (160). Among the Indigenous victims, two-thirds were in a Prairie province (102). Overall, the Canadian homicide victim rate is low. Among the non-Indigenous, the average annual rate over the three years was just above one per 100,000.
Among the Indigenous in the Prairies and the Territories, the rates were, respectively, 14 and 19 per 100,000. These rates are not low! In other regions the Indigenous homicide rates were high, but much lower: Atlantic (one), Quebec (four), Ontario (five) and B.C. (five).
Article content
Among all homicide perpetrators, approximately a third were Indigenous. Among both Indigenous and non-Indigenous, the great majority of victims were killed by family members or acquaintances. What is the explanation?
Harold Johnson, a First Nation lawyer who grew up in northwestern Saskatchewan, was for many years a Crown prosecutor in the northern half of the province. In 2016, he published his memoir, Fire Water: How Alcohol is Killing My People (And Yours).
The title refers to the dominant theme throughout the book — the need for both Indigenous and non-Indigenous leaders to address the abuse of alcohol and drugs among Indigenous peoples in northern Saskatchewan. We could blame it all on white settlers and residential schools.
Article content
But, he argues, that implies history is the only relevant explanation for today's problems: Indigenous and non-Indigenous leaders have no agency, no ability to undo the damage.
Johnson's policy recommendations deserve serious attention. First, he insisted on respect for Indigenous identity. Second, he promoted "safe houses," places guaranteed to be free of alcohol and drugs.
Third, he called on Indigenous and non-Indigenous leaders to address the syndrome of high rates of suicide, homicide, and alcohol/drug abuse by a resolute, prolonged attack on the persistence of high unemployment rates, low education levels and low earnings among those in remote Indigenous communities — in particular in the Prairies.
Article content
Based on careful analysis at the county level in "rust belt" U.S. states over the past quarter century, Angus Deaton concluded that factory shutdowns were a central factor to explain increased local rates of suicide, alcohol/drug abuse and low health status.
Factory shutdowns in cities such as Detroit, Cleveland and Pittsburgh led to higher local unemployment rates and lower wages for those who found an alternative job. Based on his research, Deaton won the 2015 Nobel prize in economics.
He is a senior economist at Princeton; his wife, Anne Case, also a Princeton professor, has an international reputation as a health economist. They have summarized their analysis in a widely read book, Deaths of Despair.
They do not claim that deterioration of social conditions over the last quarter century in many U.S. towns and cities is the only problem, but undeniably access to employment at good wages is a crucial basis for a sound community.
Article content
In a frank speech, Wally Burns, chief of the James Smith Cree Nation, acknowledged that use of drugs and alcohol on his reserve is widespread and that it is a very serious problem. No one knows precisely the motivation of Myles Sanderson.
Whatever it be, the underlying lack of employment in many remote reserves, such as James Smith, is a factor conducive to "deaths of despair."
If a remote First Nation reserve has the good fortune to be near a potential mine, commercial forest or energy project, the best option may be a partnership with a resource sector company. If the reserve has effective leadership, it can benefit by employment and a share in the company's expected profits.
A prerequisite to obtaining the good jobs, however, is good education — which is often not the case. And most remote reserves do not have the good luck of proximity to such resources.
Article content
There is no doubt that the search for truth and reconciliation with First Nations and Métis is important. But it is equally important to pursue a second strategy: Pragmatic programs to improve education and health outcomes, and economic development among Canadian Indigenous peoples.
John Richards and Pierre Fortin are emeritus professors, respectively from Simon Fraser University and the Université du Québec à Montréal. In the 1970s, John Richards represented Saskatoon as an MLA in the 1970s.
Phil Tank: Calls for Sask. policing changes inevitable after massacre

Doug Cuthand: Look beyond the tragedy to strength within the community
• Opinion articles — also known as guest columns, op-eds or commentaries — with a focus on current affairs in the Saskatoon region and Saskatchewan will be given priority.
• Articles must be original works submitted to us and not material published anywhere else. Alert us if you are submitting a piece to more than one publication.
• The maximum length for an article is 650 words and we will consider shorter works of about 500 words.
• Writers should have experience or expertise in the subject about which they are writing.
• Please include a line after the article briefly summarizing your relevant credentials or background. Also, be sure to disclose any personal involvement or conflicts of interest pertaining to the subject matter.
• As with letters, do not address an article to a third party like the prime minister or the premier.
• Generally, we prefer a maximum of two names as authors of an article, although four names can be accommodated. Names can also appear at the end of the piece as co-authors. We require the name of a person, not an organization for a byline.
• Send articles as text in the body of an email, not in an attachment.
• Make sure that the facts are accurate. Please send sources for any obscure information contained in an article (these may be sent in a note accompanying the piece). Ideally, facts or statistics that are not well known should be sourced within the piece.
• You will be notified if your article is being considered for publication, but we cannot publish every article submitted.
• The StarPhoenix does not pay a freelance fee for opinion articles, which may also run in other Postmedia outlets.
Some tips:
Timing: It should be obvious why we are discussing the subject now, instead of next month or next year. Usually that means some sort of recent development or something that will soon happen.
Originality: The author has something new to contribute to the conversation.
Opinion: There is a clear opinion expressed, beyond mere analysis. The author is advocating for a position and/or criticizing an idea or decision.
Authority: The author has pertinent expertise or more than an average level of familiarity with the topic.
Voice: The style is similar to a personal essay. You are writing in your own voice (though preferably not using the first person) and not quoting other people's views.
Structure: Starts in an engaging way and quickly signals to the reader where the piece is going. The argument is developed, and then the piece ends on a definitive, clear note about what the point is.
Writing style: Engaging and clear.
Tone: Forceful arguments are welcome, but not nastiness and name-calling. Avoid attribution of motive and sarcasm.
With Files from the Edmonton Journal and the Montreal Gazette
Want to know how we decide what to cover and how editorial decisions are made at the Saskatoon StarPhoenix and Regina Leader-Post? Get the weekly Letter From the Editor newsletter from the Editor in Chief Russell Wangersky and join the discussion on what goes into covering news and delivering commentary, both in print and online. Click here to subscribe.