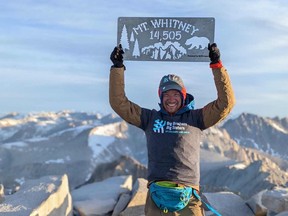 Article content
Former city councillor Jeromy Farkas is set to reach his $100,000 fundraising goal as he reaches the halfway point on a more than 2,000-mile journey.
Article content
The former mayoral candidate announced on social media on Friday that he is a few hundred dollars from reaching his six-figure donation goal to Big Brothers Big Sisters Calgary. Farkas was atop a mountain in Lassen Volcanic National Park in California Saturday continuing his run, roughly halfway through his journey on the Pacific Crest Trail.
"It was fantastic to to make it to the halfway mark on the Pacific Crest Trail and (hearing this latest fundraising mark) is the best news that I could have ever gotten," said Farkas. "I'm very humbled by the support that Calgarians continue to give me personally, but also a great organization like Big Brothers and Big Sisters."
Farkas started his run from the southern border of the United States up to the Canadian border through several western states 105 days ago and initially set out to raise $50,000. He quickly hit that mark and doubled down. On Saturday, he said the goal is to finish the last few hundred dollars before looking at upping the target once again.
Article content
He said the journey so far has been "gruelling" as he has had to battle frostbite, altitude sickness, injuries and COVID-19.
"It's been pretty tough, it's pretty gruelling out here. But even when I have bad days just coming back to thinking about the people back home, thinking about the kids that BBBS serves. That makes all the difference for me and it's really the reason that I've been able to get this far," said Farkas.
Farkas said he is about 1,330 miles into his run and has approximately the same distance in front of him. He expects to run about the length of a marathon every day for the next 50 days.
Ken Lima-Coehlo, president and CEO of BBBS, said it is great to have someone with a large profile like Farkas being an ambassador for the organization, and said the money he raises will go towards providing their core services to the community.
Article content
"It's not going to be starting up some fancy new program or some new project. It's going to help us do the core work we do," said Lima-Coehlo. "It's going to help us mentor the kids. We've got over 900 kids right now in the program."
Lima-Coehlo said the number of kids in the program has dropped a little due to the COVID-19 pandemic but that they are hoping to bounce back and continue to grow.
In addition to Farkas' funds, the organization will be boosted by a $650,000 donation from Canadian Progress Clubs that was announced earlier this week. Lima-Coehlo said that is the largest single sum of money that has ever been donated in the history of the organization.
"It's transformational. What can I say? They have been an amazing partner for decades," said Lima-Coehlo.