In a span of six months, gambling has taken over professional sport on this continent — and there is real risk involved.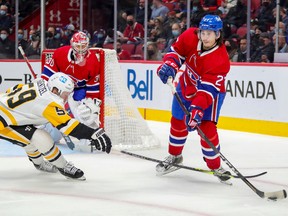 Article content
The logo is small and not unattractive as bank logos go — a stylized lion pawing a globe.
Article content
That the bank behind that logo was once the Royal Bank and that the image accurately conjures the predatory relationship between the former British Empire and the world is coincidental.
Article content
It's enough that the logo is there, desecrating the Sainte-Flanelle. Cause enough for a hullabaloo, in the eyes of some.
I don't know. Perhaps I'm simply running out of indignation. I don't see cause for a mighty fuss over that one little patch.
Would I prefer the Canadiens hadn't gone the way of the other 31 NHL teams in allowing advertising on uniforms? Absolutely.
Will I shake my fist at the clouds (summoning yet more Old Man Yelling at Clouds GIFs from slack-jawed numb-nuzzles)? No, I will not.
We have had rink board advertising since the days when the ads at every Canada Cup were a prime source of revenue for Alan Eagleson. (The Gazette photo showing a row of Habs players on the bench slumped weakly over the Viagra sign remains a classic.)
Article content
We can't go near a sporting arena without being bombarded by brands. If the rink boards are not enough, there's always the mighty scoreboard on high, backed up by speakers the size of Volkswagens to get the message across.
I do hope the NHL will not go the European route and plaster garish advertising all over hockey jerseys, because those are far and away the ugliest uniforms in sport. But one little patch on a hockey jersey?
There are bigger things to worry about.
In a span of six months, perhaps less, gambling has taken over professional sport on this continent — lock, stock and smoking barrels. FanDuel in particular is now omnipresent, to the point where it's impossible to watch 10 minutes on any sports network without the betting giant rearing its head like Godzilla over Tokyo.
Article content
And it's not just FanDuel. Once respectable sideline reporters who have earned their spurs coaxing quotes from frustrated players who are inarticulate at the best of times are now giving us the latest in betting lines. The insufferable Luke (Man Bun) Willson, who apparently spent some time with NFL teams, is suddenly a thing — as if Cabbie wasn't bad enough.
When I saw that the relatively staid sport of curling is now involved in something called the PointsBet Invitational, I knew the game was up. Gambling now rules and the rest of us are simply going to have to accept it — FanDuel is merely the most visible of the entities changing the way we consume and relate to spectator sports.
When I first became aware of FanDuel, I assumed that somewhere behind it was a crew of bent-nosed boys — but the first big investor in FanDuel was a private equity house called Shamrock Capital Advisors, a firm founded by Roy E. Disney and now run by his estate. There have been bumps along the way, including a failed attempt to merge with DraftKings in 2017 that forced FanDuel to give more equity to existing investors — but by 2021, FanDuel was flexing its muscle at the NFL draft, which is about as big as it gets.
Article content
Now it seems that every available personality from former TSN anchor Dan O'Toole to Jon Lovitz is out there peddling a gambling site. The sports networks have caved, wholesale. They're now sports gambling networks.
Why does it matter? Why shouldn't we sit back and watch the sports we love become so entwined with gambling interests that it's hard to tell where one leaves off and the other begins?
Because there is real risk involved, beginning with the private bettor — the gambler with a problem who will destroy life and family because betting is simply irresistible.
The larger risk is what was behind the Black Sox Scandal in baseball in 1919, the college basketball scandals in the 1950s and decades of soccer scandals. Gambling.
Article content
You could see it coming when the NHL became the first of North America's major leagues to dive into Las Vegas, followed shortly by the NFL's Raiders delivering another kick in the teeth to their long-suffering fans back in Oakland.
Next up? A betting scandal of enormous proportions, involving star goalies, quarterbacks, a star point guard as March Madness peaks — someone in a direct position to influence outcomes. Given the numbers of leagues and teams involved, the players who might be vulnerable, the billions of dollars at stake, a scandal is inevitable.
Bet on it.
Oh, and before you bet on the Habs having a better than expected season, check the injuries to Nick Suzuki and Joel Edmundson. You can do everything right (and so far, the Jeff Gorton/Kent Hughes duo has done exactly that) but as every bettor knows, in the end you need a little luck.
Heroes: Eugene Lewis, Martin St. Louis, Jeff Gorton, Kent Hughes, Wilfried Nancy, Arber Xhekaj, Albert Pujols, Artemi Panarin &&&& last but not least, P.K. Subban.
Zeros: Vladimir Putin, Alexander Ovechkin, FanDuel, Luke Willson, Brett Favre, Ime Udoka, Michel Therrien, Claude Brochu, David Samson &&&& last but not least, Jeffrey Loria.
Now and forever.
Jack Todd: Brendan Gallagher was best pick for captain — in 2015

Jack Todd: Every fan, every player's parent has a stake in Hockey Canada scandal

More columns by Jack Todd