After interim chairperson Andrea Skinner's resignation, the list of those who absolutely have to leave is down to CEO and president Scott Smith.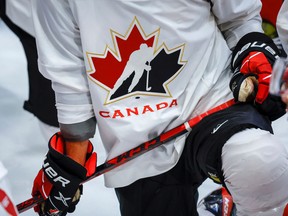 Article content
And then there was one.
Article content
With the resignation Saturday of interim Hockey Canada chairperson Andrea Skinner, the list of those who absolutely have to go is down to Scott Smith, CEO and president of an organization that looks more culpable by the day.
Article content
By now, Skinner must know that her decision to take on the responsibility of defending Smith and his cronies was probably the worst mistake of her life. Skinner didn't reveal much Saturday, saying only that she was grateful to the members of Hockey Canada for electing her to the board of directors "and providing me with the opportunity to make positive change for our game and for Hockey Canada."
"I stepped into the position of interim chair of the board two months ago for the same reason. Upon reflection, it is clear to me from recent events that it no longer makes sense for me to continue …"
Article content
Skinner's statement came only days after she tried to defend the indefensible in her appearance before Parliament, insisting that hockey shouldn't be made the scapegoat for toxic culture that exists elsewhere in society — when, in truth, Hockey Canada has not only helped to create that culture, it has paid millions of dollars to perpetuate it by paying off the victims.
Skinner told Parliament that "our board frankly does not share the view that senior leadership should be replaced on the basis of what we consider to be substantial misinformation and unduly cynical attacks."
We would love to hear Skinner's explanation as to what misinformation and which cynical attacks she is referring. Is she saying that Hockey Canada did not in fact spend in excess of $8 million to buy the silence of the victims of sexual assault? Or that it's unduly cynical of us to believe that people who were behind the payoffs should not be in charge of cleaning up this mess?
Article content
Others are far more culpable than she is, but Skinner's tone-deaf, preposterous statement in Parliament about keeping the lights on in the rinks was perhaps the last straw. Local volunteers across the country keep the lights on, not Hockey Canada. Hockey Canada takes — it does not give.
Given that Hockey Canada has just taken the mind-boggling step of suing the federal government to prevent the disclosure of its financial information, it's hard not to believe that Skinner bailed because she understands at last that she would be compromised permanently if she did not step down.
What is Hockey Canada trying to hide? Why should a public entity not be entirely transparent about its finances?
What has Hockey Canada been doing with the millions of dollars it receives from the federal government, its sponsors and the exorbitant fees it collects from hockey parents across the country? Where is the money going, and why?
Article content
As with everything else about this institution, it's a muddy trail. Nothing about Hockey Canada is transparent, not even its status as a non-profit. Is it, or isn't it? We already know that Hockey Canada executives pay themselves bonuses every time one of our national teams wins a championship. What else is going on and how bad is it?
Is it conceivable that this might end up in the criminal courts? Is that why Smith and his cronies have clung so stubbornly to their posts? Because they're afraid of what might be exposed if Hockey Canada is under new management?
With Quebec leading the way, provincial governing bodies are beginning to withhold the transfer of funds to Hockey Canada. Canadian Tire has permanently withdrawn as a sponsor, Esso won't be supporting the men's teams for this season. Tim Hortons, Chevrolet, Telus, Scotiabank and others are pulling their sponsorships. Scott Smith is like the last bad guy standing at the end of a western.
Article content
The only thing left for him to do is to come out with his hands up.
Lies, rumours &&&& vicious innuendo: Ah, there's nothing like a Blue Saturday for the Blue Jays to gladden the heart of an old Expos fan. The Jays are becoming the Maple Leafs of baseball. …
OK, Danny Maciocia's tenure as interim head coach of the Alouettes hasn't been the disaster I thought it would be. I still see no reason to believe Khari Jones could not have done as well, given time. …
We're still waiting for Major League Baseball to recognize that Aaron Judge now holds the legitimate single-season home-run record and that the career mark belongs to Hank Aaron. …
I've thought for a couple of years now that the best prospect in the Canadiens' system was defenceman Kaiden Guhle — and nothing that happened during this training camp changed that opinion. …
Article content
Finally, Juraj Slafkovsky — Montreal or Laval? Surely it isn't a serious question. The answer has always been Laval.
Heroes: CF Montreal, Olivier Renard, Wilfried Nancy, William Stanback, Roger Maris, Henry Aaron, the Seattle Mariners &&&& last but not least, Aaron Judge, holder of the single-season Major League Baseball home-run record.
Zeros: Hockey Canada, Scott Smith, Andrea Skinner, Barry Bonds, Sammy Sosa, Mark McGwire, Roger Clemens, the Blue Jays, Claude Brochu, David Samson &&&& last but not least, Jeffrey Loria.
Now and forever.
Twitter.com/jacktodd46
Stanback expected to return to Alouettes' lineup Monday against Redblacks

Canadiens finish preseason without a win after OT loss to Senators
Check out our sports section for the latest news and analysis. Care for a wager? Head to our sports betting section for news and odds.