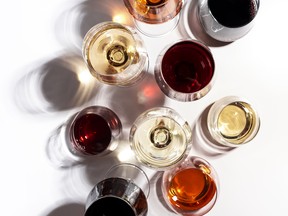 Article content
Do you plan on having a drink this weekend? The latest nanny state lecturing, brought to you by the Trudeau government, says if you've already had two drinks this week, you should stop.
Article content
You read that correctly, two in a week, not a day but a week, is risky. They actually advocate for no alcohol consumption at all but warn you that more than two drinks in a week should be avoided.
If this sounds like the temperance movement that gave way to prohibition making a comeback, you're right except this time, it's all being pushed by government. The Canadian Centre for Substance Use and Addiction may sound like an independent body, but they are anything but, most of their money and their input comes from government.
Of the $12.6 million of "revenue" that the CCSA reported last year, $9.35 million or 74% was directly from Health Canada. The federal government also appoints five board members, including the chair and currently that includes the deputy minister of Health Canada and deputy minister of Public Safety as ex-officio board members.
Article content
This is one of those uniquely Canadian institutions that will claim to be independent but would shut down within two days if government support were cut off. Which is why this nanny state mentality of describing anything more than two alcoholic drinks a week as risky is so worrisome.
Having the government warn people about excessive drinking, the health risks of alcoholism or even the health risks of binge drinking are all serious and valuable public policy goals. Telling the public that they are at greater risk of cancer or dying from an accident if they consume more than two alcoholic drinks in a week is ridiculous.
Drinking bad, heroin good?
Have I mentioned that this same, government-funded organization backs the idea of providing a "safe supply" of heroin and other opioids? That's right, more than two glasses of wine in a week and you are a problem, but if you want heroin, the government should give it to you to make sure it is safe.
Article content
The report states clearly that their goal is to change public policy "with a view to changing Canada's drinking culture and curbing the normalization of harmful alcohol use in society." If they were focused on problem drinking, on binge drinking then I could support them but they are taking a typical public health viewpoint.
Any risk is too much risk.
A group of researchers and medical professionals in Quebec recently published a reply to the report calling out the CCSA for failing to recognize any of the noted physical or social benefits of alcohol consumption. They also expressed concern that so many Canadians would be considered "out of the norm" if this two-drink-a-week measure was left unchallenged.
Dan Malleck, a professor of health science at Brock University is one expert who has spoken out against this report and it's claims that any consumption of alcohol leads to increased health risks.
Article content
"Talking about 'increased risk' can be misleading when there's no balance presented between risk and likelihood," Malleck said in response to the report.
Public health has taken on a mythical role during the pandemic but before COVID-19 hit, these were the people who would regularly warn you that speed limits should be reduced to 30km per hour and shopping at garage sales would lead to bad health outcomes.
LILLEY: Trudeau's fight with Alberta is all because he doesn't know how to collect guns he banned

LILLEY: Trudeau is about to raise taxes three times but hopes you won't notice
In fairness to the Trudeau government, this isn't government policy yet but if they don't push back on the nanny state proposals that they fund, that their top bureaucrats take part in, it will become government policy. By stealth, the bureaucrats at the Public Health Agency of Canada will push this forward to the point of no return.
These are not guidelines any Canada can or should take seriously, neither should the government and they need to state that clearly. If not, silence is acquiescence and claims that the Trudeau Liberals are the embodiment of the nagging nanny state will ring true.
Orders up prime minister, what are you having?