Ottawa has one of the largest Inuit populations outside of the north.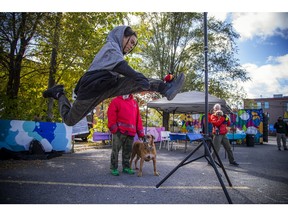 Article content
"We have a lot of games that are painful on purpose," 17-year-old Damian Metcalfe says. "One of my favourites is called 'fish hook.'"
Article content
Damian, whose Inuit name of Majuqtuq means "climbing or reaching for the top," explains how Inuit men would hook their fingers inside each other's cheeks and then pull until one gave up, a finger slipped free or … shudder … a cheek ripped.
Article content
"Up north, we live in such a harsh environment that, if we run into a little pain, we still have to push through in order to survive," he said.
Thankfully, "fish hook" wasn't one of the games being demonstrated Saturday at a celebration of Inuit culture hosted by the Hub Vanier. Instead, Inuit and non-Inuit alike tried their skills at games like finger pull, owl hop and the one- and two-foot high kick.
Ottawa has one of the largest Inuit populations outside of the north, and so many Inuit live in Vanier that it's sometimes called Little Nunavut.
Article content
The traditional games come in different forms. Finger pull, for example, in which the two players wrestle using only their interlocked middle fingers, simulates the strength a hunter needs to pull a harpooned seal up through its breathing hole in sea ice. Various hopping games build the skill needed when hunting or fishing on unstable ice. Some games are meant to show off skills to a romantic interest, while others, like the high kick, are just for fun.
"People fear what they don't understand," said Damian's father, Stranger.
"Our culture wasn't talked about a lot in school when I was growing up in Ottawa," he said. "I just want to leave a better world for my kids and my grandkids. The more I teach about my culture, the better world I leave behind. It's a beautiful culture."
Article content
Stranger took his name from his grandmother, who would chide him for not visiting more often with his kids. "She'd call me Stranger. That was her way of letting me know that I should come more often," he said.
The name became so meaningful for him that he changed his name legally. Aalla — Inuktitut for Stranger — appears on his driver's licence and birth certificate.
Stranger's father was from Nain, Labrador, and educated at a residential school in Hebron, N.L. He was a linguist who helped author one of the first Inuktitut-English dictionaries and taught at Memorial University in St. John's.
"My dad went to residential school, and because of that I didn't start learning about my own culture until I was 20," Stranger said. "He preserved the language for two decades and he didn't teach me a single word … because of residential schools.
Article content
"I asked when I was a teenager why he didn't teach me about my own culture. He said, 'Son, I want to raise you as westernized so that you can succeed down south.' That's what residential schools did to my father."
On Saturday, Stranger demonstrated to visitors how to write in the Inuktitut syllabics, a written language developed by missionaries intent on bring the Bible to the Inuit. Standing beneath a giant colourful mural of narwal, char and seals, Stranger talked about the significance of tattoos in Inuit culture for women, of piercings for men and of how food sources and hunting techniques varied across the north.
"When I was growing up in Ottawa, people still thought Inuit lived in igloos," he said. "They don't think that anymore."
But things have changed. When Damian was a child, he attended an Inuit daycare where they learned about Inuit culture.
"Many days I'd come home and teach my dad what we learned that day," Damian recalled.
Saturday's Inuit Olympics demonstration was part of a summer-long series of events hosted by Hub Vanier at 271 Marier Ave., sponsored by the Vanier BIA and federal government grants.