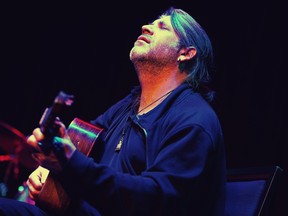 Reviews and recommendations are unbiased and products are independently selected. Postmedia may earn an affiliate commission from purchases made through links on this page.
Article content
From Carnegie Hall to Lincoln Center to the Lyon Opera House, some of the world's best concert halls have welcomed guitarist Stéphane Wrembel.
Article content
But the French-born, New Jersey-based virtuoso, best known for his evocative gypsy jazz stylings that have graced several Woody Allen movies, says he's just as happy to play lower-key, more intimate settings such as Red Bird Live in Ottawa.
Article content
Wrembel is so keen about the less-than-a-year-old venue in Old Ottawa South that he'll be back on its stage Thursday, five months after he last played there.
"I love it," Wrembel says of Red Bird.
"It's not about big or small venues," he continues. "It's like visiting a big city or a little village. They have their own charms.
"I have as much pleasure playing Carnegie Hall or the Lincoln Center as Red Bird. It's all a matter of vibe. But at the Red Bird, we're going to be very close with the audience. It's a bit more bonding, it's a different thing altogether.
Article content
"I love it all. Every night if I could have a concert, I would."
Wrembel is blessed with dazzling technique and musicality that recall Django Reinhardt, the late legendary guitar master who has been his foremost inspiration since he was a teenager.
Born in Paris in 1974, Wrembel as a child played classical piano and then Pink Floyd on guitar before he fell in love with Reinhardt's music.
Article content
Reinhardt was a Sinti (a person from a Roma group from Western Europe), born in Belgium but based in Paris during the 1930s and 1940s. There and then, he famously pioneered the use of guitar as a lead instrument in his jazz group, the Quintette du Hot Club de France. Reinhardt further astounded listeners because he had lost the use of the fourth and fingers of his left hand due to an accident.
Fascinated by Reinhardt but not a Roma himself, Wrembel spent more than six years going to the Roma camps outside of Paris and playing at their parties and weddings.
"That's how you learn this music, because it's specific to a culture. Music is not only the notes," Wrembel has said. "Without the culture, something is missing."
He moved to the U.S. to attend the Berklee College of Music in 2000 and ever since has lived on this side of the Atlantic.
Article content
While Wrembel draws from many styles and inspirations, he spent several years before the pandemic re-immersed in Reinhardt's music, specifically in the "untapped musical territory" of Reinhardt's solo recordings.
Likening what he did to "an obsession," Wrembel transcribed and then learned solo pieces by Reinhardt, which he recorded for his 2019 album Django L'Impressionniste.
Article content
After the pandemic struck, Wrembel pivoted to teaching online and produced a book of his Reinhardt transcriptions.
"Django is to the guitar what Bach is to the piano," Wrembel says. Both towering musicians provided "a primal, archetypal frame" showing what could be done on their respective instruments, he explains.
Not only did Reinhardt demonstrate how jazz could be played on the guitar, says Wrembel. "From that frame, all modern guitar stuff is all there," he adds.
When Wrembel was last at Red Bird, he performed solo pieces by Reinhardt.  On Thursday, he will be joined on stage by Ottawa guitarist Justin Duhaime, a 32-year-old who has known Wrembel and admired his playing for the last decade.
"We've always talked about playing together. This time it will come to fruition," Wrembel says.
Article content
Duhaime, the recipient of the Ottawa Arts Council's 2018 RBC Emerging Artist Award, leads a band called Gypsy Muse. He also counts Reinhardt among his heroes.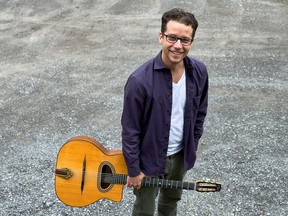 "I've spent some time transcribing some Django Reinhardt solos. Trying to learn that music is ridiculously difficult," says Duhaime, who grew up in Orléans and studied music at Carleton University.
Duhaime says he's not nervous about playing with someone of Wrembel's stature. More importantly, he's just glad to be performing again after suffering a nasty concussion nearly a year ago. Duhaime says he spent the better part of several months wearing a blindfold while enduring massive headaches.
"I still have headaches almost every day, but they're much more mild," Duhaime says. "I'm just trying to be patient with myself.
Article content
"I just want to have fun and share that with the audience (at Red Bird)," he says. "If we all have fun, then it's a great time."
After the concert, Wrembel will stay an extra day in Ottawa to give a workshop on Reinhardt and his music, on Friday night at Red Bird. The two-hour workshop is open to music students on all instruments.
The workshop might veer into the realm of the philosophical, if a recent conversation with Wrembel is any guide.
"Life, or music, or whatever, is a meeting between order and chaos," says Wrembel.
For example, composing "is something very chaotic," he says. "When you compose, it's from chaos to order. I can be in the street, and boom, the theme comes to me. When I come home, I play with that idea until it starts to solidify. The finish is very rational, until I bring it to the band… and then it's chaos again."
Article content
Furthermore, "music is made of things that are knowable and teachable, which I call the frame, and there are things that are a great mystery," Wrembel says.
The "frame" for music, its building blocks of rhythm and harmony, are teachable and learnable, Wrembel says. With the help of instrumental technique, which is also very concrete, rhythm and harmony can be ingrained into a musician's muscle memory, he says.
But melodies are more mysterious, and the best ones defy description. "You know when you hear a melody," he says. "(But) it's like a taste of an apple. You cannot definite it with words. It's impossible.
"We all have an inner essential melody," he says. "Each human being has a way to extract that melody. We have to tap into that mystery."
Stéphane Wrembel
Where: Red Bird Live, 1165 Bank St.
Concert: Oct. 6, doors at 7 p.m., music at 8 p.m.
Tickets: $30 plus HST in advance at redbirdlive.ca/shows, $35 plus HST at the door
Workshop: Oct. 7, 6 to 8 p.m.
Tickets: $97.04 at eventbrite.ca, search for Stéphane Wrembel