On his second visit, Uko was escorted out by hospital security. Later that night he stepped into Wascana Lake and did not come up for air.
Article content
Emotions erupted on Day 3 of the coroner's inquest into the death of Samwel Uko as members of his family reacted to video from the emergency room on the day of his death.
Article content
A member of his family spoke out in the gallery and yelled at a witness, Sarah Thompson.
"He's gone because of you, you bitch!" said one of Uko's family members. "Why didn't you help my brother? Because he's Black?"
Reginald Watson, counsel for the Saskatchewan Health Authority, said the comments were "completely inappropriate."
In the video Uko could be heard yelling, "leave me alone" and "I have mental issues."
Thompson was working as the triage nurse on the evening of May 21, 2020 when Uko attempted to seek help for a second time that day. Uko's death is the subject of a coroner's inquest which began Monday.
On that day in May 2020 he twice went to the Regina General Hospital seeking help; once in the morning and again in the late afternoon.
On his second visit, he was escorted out by hospital security. Later that same night he stepped into Wascana Lake and did not come up for air.
A forensic pathologist said his cause of death points to drowning.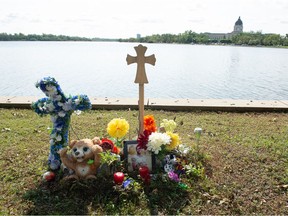 On the video, police can be seen around Uko, who is sitting just out of frame. Eventually, the officers leave and security stands by Uko.
Thomspon, a nurse, told the inquest that where Uko was sitting was causing some issues for the registration desk. She said he couldn't stay there, on the chair next to registration because patients were going around him, affecting the flow of patient processing.
"That chair was not an ideal spot," she said, adding he could sit "anywhere but there." Emphasizing later that she said he could stay, just not there.
Article content
"It does not appear that where he is sitting is impeding traffic," said Robin Ritter, counsel for the coroner.
But, she said there was some issue with people at registration moving around Uko, given where he was sitting.
Said it was toward the end of the visit that she asked security to "move him." As Uko yelled, members of security forcibly took him out of the emergency room.
Uko's uncle, Justin Nyee, asked from the gallery, "did you stop them?" Ritter posed the question.
"I did not," said Thompson, because "I was actively triaging another patient at that moment."
Nyee said to Thompson while leaving the room, "I hope this haunts you for the rest of your life."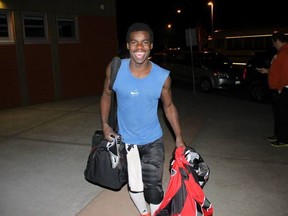 Taban Daudau Uko, speaking earlier in the day through his youngest brother, Nyee, said his son would have grown up to be a better man than he, and that it has been difficult explaining to his nieces why Samwel Uko isn't coming home.
During a press conference on Wednesday morning one of the nieces, who barely came up to his waist, gave Taban Uko a hug.
Nyee, speaking for the family, said "when it comes to racism, people don't want to talk about it. It's there. It's an elephant in the room."
Through the inquest, Nyee and the Uko family have expressed their belief that race played a role in the treatment of Uko.
He said of the conduct of the nurse and staff that evening that he is still trying to figure out what happened and why.
Police dropped Uko off in the care of the hospital, he said, after Uko had called for help.
Article content
"They left him there under the authority of the hospital. The hospital was in charge when the police brought him in and then he was escorted by security guards. I'm trying to figure it out," said Nyee.
"Why was security involved in first place?"
The inquest is set to run until Friday, with the possibility of extending the inquest to June 6. The coroner's jury is not tasked with finding blame, but may make recommendations aimed at preventing similar deaths.