'The more it goes up, it's unsustainable. And I think the longer this goes on without remedy, people are really starting to experience some panic and that is really justified fear, if you cannot make ends meet'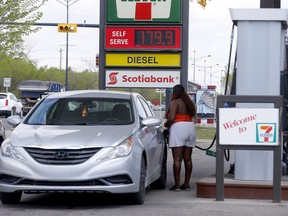 Article content
As inflation hits levels not seen since 1983 in Alberta, even more Calgarians are struggling to keep up with rising expenses.
Article content
Statistics Canada reported on Wednesday that inflation for the year in Canada had hit 7.7 per cent on average and 7.1 per cent in Alberta in May. Calgary, however, had one of the highest inflation rates among cities in Canada at eight per cent.
Meaghon Reid, executive director for Vibrant Communities Calgary, said the issue is driving anxieties and exacerbating mental-health issues within the community.
Article content
"What we are hearing is fear. It's fear," she said. "And the disconnect is that we are having this conversation every month . . . saying that this is unsustainable. It's still unsustainable. The more it goes up, it's unsustainable. And I think the longer this goes on without remedy, people are really starting to experience some panic and that is really justified fear, if you cannot make ends meet."
Article content
Trevor Tombe, a professor of economics and research fellow at the School of Public Policy at the University of Calgary, said inflation in Alberta is being driven primarily by energy and shelter, making up a combined 4.5 percentage points of the increase. The difference in Alberta, he said is the gas tax relief of about 13 cents per litre, giving Alberta the lowest prices at the pump in the country.
Article content
"Gas prices here in May, on average, were up about one-third above where those prices were last year, and nationally they're up nearly 50 per cent," he said.
The price of gas is also driving up the price of groceries and other goods, while natural gas and electricity prices are also having a trickle-down effect.
The price of gas will also affect people's vacation plans this year, with the cost of flying increasing or even just filling up an RV or driving to see family.
Article content
The cost of housing, meanwhile, continues to rise, with the cost of rent jumping by as much as 21 per cent due to a shortage in rental units and a surplus of people moving to the city for work, while landlords try to cover their increased costs.
Oyin Shyllon, an economist for the City of Calgary and regulatory lead, pointed to the increase in shelter costs as a key reason inflation in Calgary is higher than the rest of the province. He said Calgary had the highest rise in the cost of shelter compared to other cities, at 10 per cent year-over-year. Montreal had a 6.5 per cent increase in shelter costs.
"We all spend more than a quarter of our disposable income on shelter," said Shyllon. "When Calgary has the highest of all of these cities in the shelter category, it tells you already why we're way ahead of all the others."
Article content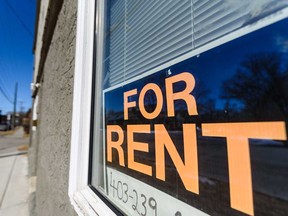 The Bank of Canada is also likely to raise the interest rate by another full percentage point by the end of the year, if not sooner. This means mortgage costs will go up for those on a variable interest rate mortgage and affect those with credit card or household lines of credit. Both can add hundreds of dollars to a budget.
For those on a fixed income, it is becoming even more difficult to keep their head above water.
As of April, 43,560 households in Alberta received income support of some kind — 13,268 of them in Calgary. Meanwhile, the poverty line for a family of four in Calgary in 2020 according to Statistics Canada was $50,223. For a single person, the poverty line was $25,008.
"It's why so many single people are disproportionately affected by poverty, to be able to live on $25,000 a year for everything that you need," said Reid.
Article content
Inflation has brought a new demographic into the poverty discussion, said Reid. She said those at the lower end of the middle class are being forced to make tough decisions about what bills to pay, skipping meals and parking a car long term just to pay for a mortgage or rent.
She said many of these households have never had to rely on social assistance programs and do not know how to navigate the system. She said the first call should be to 211, which will connect them with city staff who can direct them to the proper services.
Mark Kalinowski, a credit counselling and financial educator with the Credit Counselling Society, said these times require people to examine what essential expenses are. He said not buying coffee every day while at work can save hundreds of dollars a month.
Article content
He also said many costs can be controlled by setting realistic meal plans and sticking to them. Instead of steaks, get chicken or hamburgers.
Kalinowski said it is important to seek help from a credit counsellor if you're feeling the pinch. They can walk you through things such as budgeting or options to deal with debt, and could limit the need for insolvency.
"The biggest issue is, people come in when the boat's all but sunk," he said. "They need to come in when we can still patch it. . . . The sooner you ask for help, there's so many more options that get you to where you want to be in a much more comfortable way."
Twitter: @JoshAldrich03