"I'm just trying to break that cycle of stereotypical ideologies."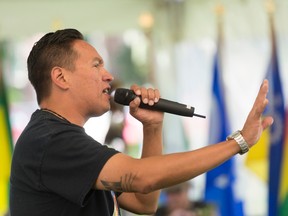 Article content
When Brad Bellegarde was in high school, one of his teachers told him his rapping was a "very great hobby."
Article content
Now 44, hip hop has taken the man who uses the artist name InfoRed to South America where he presented on how the music can be used to uplift youth, and he's performed in front of the man who recently became this country's king.
Article content
And at the behest of the Crown, he will perform this Friday in an event hosted by Lt.-Gov. Russ Mirasty, the King's representative in Saskatchewan.
Bellegarde sees the Orange Shirt Day event scheduled for 10 a.m. at Government House as an opportunity.
"The relationship between Indigenous people and the monarchy, it's an essential part of history, how we've evolved and how we move forward," he said.
Orange Shirt Day falls on Sept. 30, which is Canada's National Day for Truth and Reconciliation, meant to honour those who died in the residential school system, as well as survivors and their families.
Article content
As an Indigenous man, Bellegarde is well aware of the role of the monarchy in the history of his people. So is Mirasty, the province's first Indigenous lieutenant governor.
"Somebody has got to step up and continue to build that relationship," Bellegarde said, noting he was excited about the prospect of being able to perform for high school students who are invited to the event, which is open to the public.
When the rapper was in high school, the acts he was listening to — Snoop Dogg, Spice 1, N.W.A. — took a direct and aggressive approach to speaking about social issues and community situations.
But he's watched the messaging of popular hip-hop music evolve. Noting that he's old enough to be a father to most of today's high charting rappers, he said a lot of what he hears in lyrical content is just about being depressed.
Article content
When he gets on the mic Friday, his lyrical delivery will offer something different. In keeping with artists who inspired him, his work often touches on social issues.
But he's proud that his work gets at what he feels is important without veering into territory like misogyny, or the glorification of poverty or violence, and he also steers clear of the explicit language often associated with the genre.
Saskatchewan communities dive back into Culture Days events

Orange Shirt Day recognizes residential school legacy, Indigenous resilience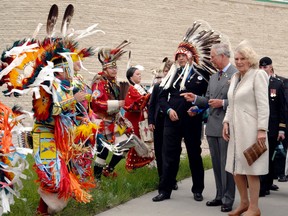 "Grandmas love my songs, kids love my songs," he said.
His track "I Remember" may be included in his performance. Its lyrics are particularly significant, given the purpose of Friday's performance, and it holds deep significance to Bellegarde, as it's a recounting of the residential school experiences of his own parents.
Article content
The track was released in 2015 on the anniversary of signing of Treaty Four, the area which includes Regina.
Some of his other work looks at Indigenous life after residential schools, touching on social issues like alcoholism and exploring topics like kinship.
It also touches on his own experiences as an Indigenous person growing up in a city, dealing with discrimination, racism and judgment.
"Now I'm just trying to break that cycle of stereotypical ideologies," he said.
The performance is one of at least three Bellegarde plans to put on this coming Friday.
And the Government House event is just one of a number happening in and around Regina to mark the day. Also scheduled within the city is a walk for Truth and Reconciliation being put on by the Eagle Heart Centre.
Article content
That event is scheduled to begin at 11 a.m. Friday, with the kick-off point at the community organization's office located at 1102 Angus St.
The walk will be in memory of those who died in residential schools, but a news release states: "We will be placing shoes on our gates to remind people of the current generation of children that will be walking on their life journeys."
And Thursday, an event called Miyo-wîcîwitowin Day is to be held at Mosaic Stadium starting at 9:30 a.m. A news release about the event states there will be "survivor stories, music, dance, keynote speakers, and a presentation to advance the 94 calls to action recommended by the Truth and Reconciliation Commission."
Tickets to that event are free, and can be accessed, along with more information, by visiting the website wewalktogether.ca.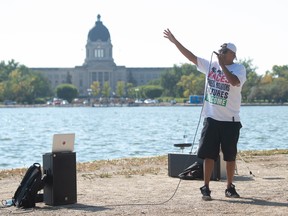 The news seems to be flying at us faster all the time. From COVID-19 updates to politics and crime and everything in between, it can be hard to keep up. With that in mind, the Regina Leader-Post has created an Afternoon Headlines newsletter that can be delivered daily to your inbox to help make sure you are up to date with the most vital news of the day. Click here to subscribe.