'A new space for Canadian single malt'
Reviews and recommendations are unbiased and products are independently selected. Postmedia may earn an affiliate commission from purchases made through links on this page.
Article content
It's not a bad way to start a new job.
Article content
Stephen Goodridge had only been general manager at Shelter Point for a few months when he sent two of the Campbell River distillery's whiskies—Smoke Point and Classic Single Malt—off to the prestigious 2022 San Francisco World Spirit Competition.
Article content
"I was hoping we'd win something, but I had no idea we'd win double gold for both of them," he says delightedly. "We've been doing everything the slow and authentic way and it's paying off."
It sure is. Shelter Point is also scooping up prizes at the Canadian Whisky Awards and Canadian Artisan Spirit Competition. Most of all, Goodridge is just happy to be "working with traditional processes, the speed of it, waiting for the whisky to age. It's just great to be putting it all together."
Article content
He joins the distillery at a particularly exciting time. Patrick Evans, the third- generation farmer who founded Shelter Point in 2011, recently sold majority ownership to Nelson Investments, allowing him to focus on growing the estate barley.
Goodridge, meanwhile, returns to the kind of craft distilling he fell in love with back in 1996, when he helped open a rum distillery in Barbados. From there he joined B.C.'s Mark Anthony Group as vice-president of liquid innovation and quality. In 2014, he founded the award-winning craft distillery Goodridge & Williams, then dipped into cider at Labatt and RTDs at Christopher Michael Brands before joining Shelter Point in January.
"What's really exciting for us right now is being able to tap into all this great whisky that's been laid down over the years," he says. "The team here were very experimental and exploratory."
Article content
He's also delighted by the wide range of casks he has to play with. For instance, the barrels for the Smoke Point have been smoked with local botanicals like moss and driftwood. The Single Malt, on the other hand, is aged in heavily charred oak that releases plenty of bold flavour.
Then there are all the other expressions in the lineup, including Ripple Rock, Evans Family Reserve and Montfort, which is made with barley "grown, distilled and bottled all in one place," all of it flavoured by the local geography, ocean and climate.
"I don't want to call it an appellation, but we're trying to create an Island style of single malt," Goodridge says. "We want to cut out a new space for Canadian single malt. We're not doing rye, we're not doing corn. We're trying to put Canadian single malt on the map."
Article content
Three to try
B.C. craft whiskies tend to be small in batch and limited in edition. Here are three award-winning ones to try, each made from different B.C. grains.
Devine Spirits Ancient Grains
An "alternative whisky" distilled from B.C. barley, spelt, emmer, khorosan and einkorn, Ancient Grains has notes of nuts, candied fruit, baking spice and smoke. 45% ABV, $75 (750 mL)
Okanagan Spirits BRBN Bourbon-Style Whisky
Just like American bourbon, this B.C. corn-based whisky has sweet, fruity aromas of corn, caramel and vanilla, with a rich, smooth finish. 40% ABV, $60 (750 mL)
The Liberty Distillery Trust Single Grain
Made on Granville Island from malted B.C. barley, this whisky has aromas of butterscotch and cacao, a spicy and nutty palate, and a honeyed finish. 40% ABV, $65 (750 mL)
Article content
Recipe: Ripple Rock Smash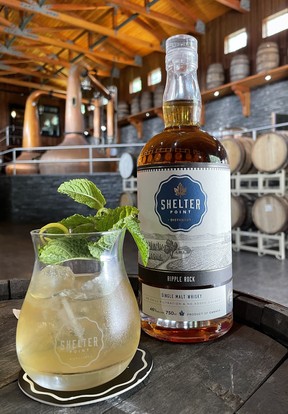 This recipe, courtesy of Shelter Point Distillery, uses a whisky made from B.C. malted barley and is named for an underwater mountain in the Seymour Narrows, famously blown up by the government in a massive controlled explosion in 1958.
¼ of a lemon
5 to 8 mint leaves
¾ oz simple syrup (see note)
2 oz Shelter Point Ripple Rock Whisky
Garnish: mint sprig, lemon peel
In a cocktail shaker, muddle together lemon, mint and simple syrup. Top with whisky, add ice and shake. Double strain into a glass filled with fresh ice. Garnish with a large sprig of mint and a curl of lemon. Serves 1.
Note: To make simple syrup, combine 1 cup sugar and 1 cup water in a small pot and cook, stirring often, over medium heat until sugar is fully dissolved.