Tenacious 5-foot-6, 183-pound right winger has no plans to let up in quest to reach NHL after spending his career proving doubters wrong.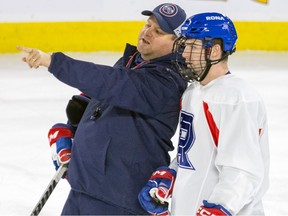 Article content
Whether Xavier Simoneau is 5-foot-6, according to the Laval Rocket, or an inch taller, as some have speculated, doesn't matter. When he's on the ice, the right winger plays like he's a foot taller and heavier than his 183 pounds.
Article content
The 21-year-old native of St-André-Avellin has spent his career playing with tenacity and anger, continually defying skeptics who maintained he's too small for the game. Simoneau calls himself one of the most-hated players in the AHL, constantly chirping at the opposition, but he was named the CHL and QMJHL humanitarian of the year in 2020.
Article content
"I remember, even when I was 13 or 14, people were telling me I wasn't going to make it," Simoneau said Thursday, one of a handful of Rocket players at an optional practice despite the team playing three games in four days. "I'm going to get hit and can't do this. Every year, I receive comments like that, but it has given me the juice to push more.
"I always play with that edge," he added. "I think that's why I'm here in pro hockey. I'm small, but I play like a big guy. I always want the puck. I always want to win all my battles. I think it's a huge part of my identity."
Article content
Selected in the sixth round (191st overall) by the Canadiens in 2021, Simoneau was signed to a one-way AHL contract after spending last summer working in Brossard with director of player development Adam Nicholas.
Simoneau started the season on the fourth line, but has advanced to the second unit. He has five goals and 29 points through 45 games, along with 41 penalty minutes. And the Canadiens organization has noticed, signing him Wednesday to a two-year entry-level contract, beginning next season, that will see Simoneau earn US$775,000 in the NHL — in addition to a signing bonus of US$80,000 each year — or US$80,000 in the AHL.
"I think it's a huge step to achieve my dream to play in the NHL one day," Simoneau said. "Every player dreams of signing a contract. I signed one, but need to work harder to play in the NHL. I still believe it."
Article content
Laval head coach Jean-François Houle won't do anything to shatter Simoneau's dream, but said it will require patience and having a coach who believes in him — perhaps someone like the Canadiens' Martin St. Louis, who thrived in the NHL despite being only 5-foot-8. Rafaël Harvey-Pinard, who is 5-foot-9, has seven goals and 11 points in 16 games for Montreal since being recalled from the Rocket.
"He wills it and is a hard worker," Houle said of Simoneau. "He's hard to play against, plays on the inside and he's got some tools. He's got some skill to his package. I think he's in the right progression. He's still young and has a lot to learn. I don't think the NHL is right there, right now. He's got time to learn a few things, but he's on the right path.
Article content
"He has to know what the limit is, getting under people's skin so you don't end up in the box. The defensive side of the game, he needs to be better at. And I think he knows that. The offence will come with him; it's already there. He does produce and sees the ice well. In time, it should get better and better. That's what you're looking at when you project a player a few years down the road."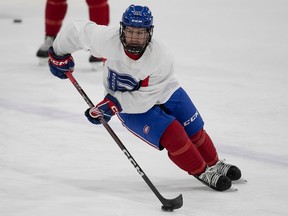 If the new deal wasn't special enough on Wednesday, Simoneau was finally able to remove the full facial protector he was forced to wear after suffering a serious eye injury on Dec. 9 against Belleville, when an errant stick got under his visor and struck his left eye. It remained closed for several days, although Simoneau was assured by doctors his career wasn't in jeopardy. He was sidelined until Jan. 4.
"It was terrifying for me," he said. "Of course, you need your two eyes to play hockey. I was really scared. I was more happy to take my cage off than to sign my contract."
twitter.com/HerbZurkowsky1
Stu Cowan: Crafty veteran Savard is glue that bonds Canadiens' defence

Nate Schnarr strives for consistency in fresh start with Laval Rocket

Psychologist, fresh start ignite red-hot Rocket forward Gignac

Stu Cowan: Winning more valuable than tanking for the Canadiens