"It felt like the world was a little bit off-kilter, and we're back on axis now."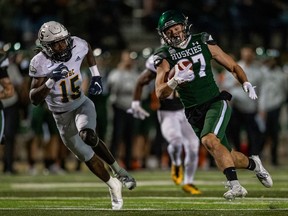 Article content
They took turns flying across vast swaths of carpet Friday night at Griffiths Stadium.
An 89-yard catch, 105-yard kickoff return, 62-yard punt return — all for touchdowns, with more where that came from on both sides.
Article content
"Two great teams going at it," University of Saskatchewan Huskies' head coach Scott Flory summarized after Friday's 34-31 victory over the visiting British Columbia Thunderbirds.
Article content
The teams had been on a collision course all season, and Friday's scrap — played under a full moon, and with an announced crowd of 3,350 — did not disappoint (unless, of course, you were UBC ).
The Thunderbirds were unbeaten heading into Friday's game, and carried the No. 5 national ranking. Friday's outcome runs the record for both Saskatchewan and UBC to 4-1. That's the same record as the Alberta Golden Bears, who beat Regina 46-27 Friday night.
That leaves a three-team jumble atop the conference, with three games left in the regular season — lots of time for jockeying, or in a different sense, not much time at all.
"You always know no team's ever going to roll over, and that's one of the things I love about (the conference)," said Huskies' linebacker Seth Hundeby, who recorded 6.5 tackles Friday. "It's always going to be a battle. It's always going to be a good game. You've got to love Can West football."
UBC, which had looked invincible this season, started the game with an eight-play, 78-yard drive that ended with a Derek Engel touchdown off a fake field goal. But the Huskies struck back almost immediately, driving 101 yards of their own, capping it off with Daniel Perry's 32-yard TD catch.
Article content
And the stage was set, for all this:
UBC's Shemar McBean scored on a 33-yard pass.
Perry responded with an 89-yard touchdown catch.
Saskatchewan's David Solie kicked field goals of 50, 23 and 16 yards.
Engel scored on a three-yard run for UBC.
The Huskies' Ryker Frank returned a kickoff 105 yards for a touchdown.
McBean returned a punt 62 yards for a touchdown on the last play of the third quarter.
And then, to cap things off, UBC's Kieran Flannery-Fleck and Saskatchewan's Solie swapped fourth-quarter field goals of 36 and 42 yards. Solie's missed 32-yarder with 1:46 left in the final quarter netted a single and a three-point lead, and the Thunderbirds couldn't get back into field-goal range.
"Coming into Griffiths, (UBC) knew what they were going to get," Hundeby said. "We were really fired up, but they came out swinging. I'm really happy we were able to battle back, and not lose hope. I have a lot of respect for that team."
Saskatchewan quarterback Anton Amundrud completed 19 of 28 passes for 304 yards,  two touchdowns and no interceptions. Perry caught four balls for 139 yards, and Ted Kubongo ran 15 times for 92 yards.
Article content
UBC pivot Garrett Rooker hit 16 of 32 for 252 yards, one touchdown and two interceptions.
"As I told the team right after, that's more the brand of football we're accustomed to playing and accustomed to seeing," said Flory, whose team — Vanier Cup finalists each of the last two seasons — lost to Alberta and needed fourth-quarter rallies to defeat Manitoba and Calgary.
"It felt like the world was a little bit off-kilter, and we're back on axis now. That's what we've been building towards. As frustrating as some of the games have been throughout the year, the boys haven't wavered. We get back to work; keep building and building and building.
"There's big plays by them, by us," he added. "We had a kickoff return; they get a punt return. That's what makes football so exciting, is the swings in the game. Nobody on the sideline panicked. Nobody wavered. You just lined up and played. I'm really proud of the boys."
The whole conference will take next weekend off for a Thanksgiving break, and then the Huskies travel to Alberta for an Oct. 14 contest with the Golden Bears. They return home Oct. 21 against Calgary.
Article content
"They've been telling us all week, the food's going to taste better going (into the break) with a win," Amundrud said at game's end, and in a season filled with lofty goals, that's a little one they're happy to accomplish.
Related Stories
Big-game season: Football Huskies prepare for unbeaten Thunderbirds

Late rally propels football Huskies to rebound win over Dinos
With some online platforms blocking access to the journalism upon which you depend, our website is your destination for up-to-the-minute news, so make sure to bookmark TheStarPhoenix.com and sign up for our newsletters so we can keep you informed. Click here to subscribe.