The Canadian government has promised to match donations collected until next Sunday, up to $5 million.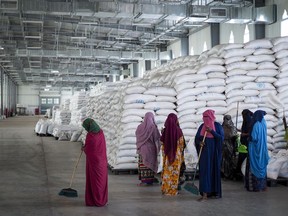 Article content
Oxfam-Québec is launching an appeal to raise awareness about the food crisis hitting sub-Saharan Africa, with less than a week to raise $5 million in donations.
Article content
On June 24, the 12 organizations forming the Humanitarian Coalition launched a drive to help the population particularly in the Horn of Africa and the Sahel region that borders the Sahara desert, which are facing the "worst drought in more than four decades," according to the United Nations.
The Canadian government has promised to match donations collected as of next Sunday, up to $5 million.
The groups are joining forces to "simplify life" so people don't have to choose which organization to give money to, said Oxfam-Québec humanitarian coordinator Céline Füri.
"The money is redistributed among us based on our capacity and our presence on the ground."
Füri said if funding is deployed rapidly, "we can really make a difference between life and death for some people." At least 85 per cent of donations will go directly to aid.
Article content
In Kenya, Somalia and Ethiopia alone, the UN estimates 16 million people are threatened by famine. Meanwhile, in the Sahel region, another 12 million people are threatened with "severe food insecurity."
The crisis is not new.
"It has been building unfortunately for a long time, at least since the beginning of the pandemic," Füri said, explaining that the drought was very foreseeable and will become more common with climate change.
The coalition is demanding that Canada spend $600 million immediately to respond to "the tip of the iceberg" in Africa, a figure based on Canada's share of the world's wealth.
International Development Minister Harjit Sajjan did not respond to a request for comment from La Presse Canadienne.
In a statement announcing the fundraising drive, Foreign Affairs Canada said it is part of $250 million recently announced to help resolve the world food security crisis, and is in addition to $514.5 million to respond to food and nutritional needs worldwide in 2022.