Article content
Dogs, cats and even bunnies were welcome to attend the local humane society's drive-thru pet microchip clinic on Wednesday.
Article content
Pet owners didn't even have to leave their vehicles in the Tecumseh Mall parking lot near PetSmart, and each procedure lasted barely seconds.
Unlike collars and tags that can fall off or be stolen, the Windsor-Essex County Humane Society said its rice grain-sized microchips embedded under the skin of pets provide a permanent source of lifetime identification. The microchips were distributed on a first-come, first-served basis at $20 per pet.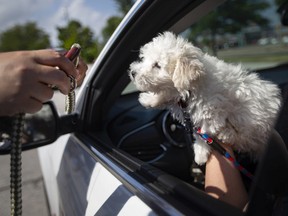 "We are passionate about keeping pets with the people who love them, and community service events like this allow us to safely microchip as many pets as possible in Windsor-Essex," said humane society executive director Melanie Coulter.
Each microchip contains a unique identification number, and those doing the implanting said it's so fast and easy that "most pets don't even notice the procedure has happened."