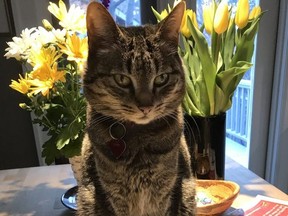 Reviews and recommendations are unbiased and products are independently selected. Postmedia may earn an affiliate commission from purchases made through links on this page.
Article content
She was a homeless teenage mother of two when I first met her.
Article content
We connected immediately when she leaned in for a cuddle. Then she rolled onto her back, showing off the lovely markings on her tawny belly.
Article content
I adopted Luna immediately, her kittens having already gone to their forever homes. After being "snipped and chipped" at the city's Animal Services Centre – i.e. getting spayed and having a scannable microchip implanted in case she went missing – the small, green-eyed brown tabby came home with us. She didn't utter a peep in the car; instead, reclined like a sphinx in her carrier, alert and confident that she was headed someplace good.
She was just one year old. We've had nearly 11 wonderful years together.
There wasn't much information about our new kitty, only that she'd been turned in, young and pregnant, and had spent time in a foster home before being put up for adoption. Luna was no street cat. She clearly understood humans and houses, quickly sussing out the sunniest napping spots and galloping into the kitchen at the sound of a can opener. Within two weeks, she'd dispatched a mouse that had infiltrated our house, cementing her status as a huntress.
Article content
The adoption papers stipulated that I would keep Luna inside and we did, at first. It was winter and she tolerated being confined for about three months. But at heart she was a wild thing. She tore around the house at top speed and tore into the furniture with her claws. She climbed walls and did backflips in the bathtub. As the days lengthened into spring, she became even more frantic and wailed endlessly to go outside.
I knew the risks of letting a cat out. A lifelong cat person, I'd grown up with these enchanting creatures and had had three of my own, all of whom went outside. Two lived until the ripe old ages of 19 and 16 but the third – we never knew her age – vanished without a trace.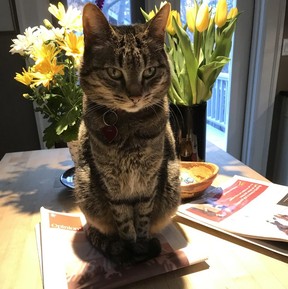 The debate about free-ranging pet cats is long, heated and international in scope. It's well known that outdoor cats kill billions of birds and other wildlife every year and that they're more likely to be killed or maimed themselves by cars or predators. According to a recent piece in The Guardian, about 70 per cent of owners in Europe and the U.K. let their cats out to roam, believing that "access to the great outdoors is considered good for cats' wellbeing."
Article content
The European Union's executive even declared in 2019 that it's a "strong defender of free movement rights – including of cats" and maintained that it would not force cats to be kept indoors or put on a leash.
The polar opposite is true in the U.S. where 70 per cent of cat owners now keep their pocket panthers inside or allow only controlled access outside. Other sources suggest Canadian cat owners are similar. In Calgary, cats must be confined to their owner's property.
Luna was desperate to escape outside, and I guess we leaned toward the European point of view, believing that giving a cat outdoor access meant she'd have great physical and mental stimulation and a full, happy cat life – knowing her life might be shorter.
Article content
She became an indoor/outdoor cat: largely staying inside from October to April, a fierce snuggler who loved to sleep in my arms under the duvet. But the rest of the year – especially in the heat of summer – was devoted to lounging in deck chairs, hanging out in our fenced yard and exploring a one-block radius from the house. She was supremely capable and cautious for such a small beast and looked like a young, lean cat well into late middle age. Our vet once observed: "She's really living her best life, isn't she?"
Yes, she killed things, especially in her early years, despite various collars and bells. It sickened me. Fortunately, her hunting lessened over the years and then stopped. She even neglected to catch a new mouse in the house and we had to buy a trap. I love birds and contemplated getting a birdbath but decided it was still unwise.
Article content
Then, in late August Luna went out for the night as she always did on warm evenings. She didn't show up in the morning. Odd, but she'd done that before. No sign of her the next day. Or the day after that – very unusual. We put up posters, combed the neighbourhood and posted pleas on several community websites. I filed a missing cat report with the city and began obsessively checking its "impounded cats" webpage. She was chipped, tattooed and had a collar and tag. Surely, she'd turn up.
No Luna. No word of Luna.
People regaled us with hopeful tales of cats who'd returned weeks or even months after disappearing. But six weeks and counting, I'm no longer hopeful. It's cold at night now and she'd hate that. Maybe her luck ran out. There are hungry coyotes and bobcats in the city, lynx even, lurking in the shadows, ready to pounce. It's a cat-eat-cat world.
We took down the posters a few days ago. I still look for her a hundred times a day, something catching my eye in an alley, corner of the garden or top of a sofa. I miss her calls as she bounded upstairs in the morning, a short meow on each stair, hoping to still find me in bed for a cuddle. I miss her striped fur, her sleek beauty, her playfulness, her essential cat-ness.
I doubt I'll ever get another cat. I can't bear the thought of keeping a cat inside, and I can't bear losing another one outside. Luna was my last, best cat. Instead, I'll probably get that bird bath. Luna would have loved it.