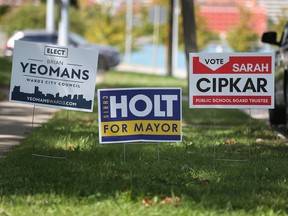 Article content
They knock on your door every election season — well, at least the most serious and ambitious among them make that effort.
Article content
They all come packing promises, included wonderful and/or sensible ideas on how best to spend (or save) your tax dollars. And they all want the same thing — your vote.
Article content
They're the political hopefuls, whether incumbents or wannabes, and they want to run the City of Windsor, a corporation with annual operating and capital budget spending in excess of $1 billion.
If the Oct. 24 municipal election turnout is a repeat of 2018, nearly two out of every three eligible Windsor voters won't even bother casting a ballot.
What experience are you bringing to the table?
That's surprising given that the multimillion-dollar decisions made by the city's mayor and councillors at the municipal government level touch on almost every aspect of the lives of citizens, including police and safety; water, sewage and electricity; economic development; planning and building; roads and infrastructure; public transit; garbage and recycling; fire, EMS and emergency response; parks and recreation; arts and culture.
Article content
Is your preference improved services or holding the line on taxes? Do you want streets that let you drive faster to your destination, or roads shared with bikes, pedestrians and lined with boulevard cafes?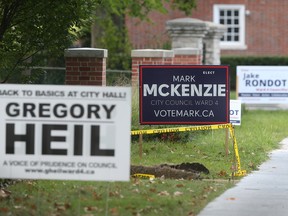 The choices voters make at the ballot box determine where and how local tax dollars get spent and what issues become political priorities.
A veteran of local politics and running successful campaigns said knocking on doors to meet as many voters as possible face-to-face is essential, but there are thousands of residences in each ward, so a smart candidate is hard-pressed to stop too long and chat.
"There's about 7,000 houses per ward, so from a campaign manager perspective you're spending no more than one or two minutes at each door — you're essentially giving your elevator pitch," said the former campaign manager, speaking on condition of anonymity.
Article content
But how do you get the most out of those briefest of encounters, to gauge whether this political hopeful at the door is worth your confidence, and your vote?
"There are questions I ask," said Lydia Miljan, a professor of political science at the University of Windsor. "If you're a new candidate, I want to know, 'Do you have experience? What issue are you really passionate about?'"
Miljan isn't impressed with "meaningless" responses like pledging to give 100 per cent or promising to bring common sense to the council table discussions. She asks basic stuff like whether or not the candidate understands the role of municipal government. Health care and education, for example, are huge concerns for many, but those are political files largely dealt with by the two more senior levels of government.
Article content
"It's not like I'm grading them, but I suss them out. They might have all these great ideas, but if they don't know how city hall works, they're just going to be spinning wheels," said Miljan.
If someone claims to be fiscally conservative, does that mean no new playground equipment in the neighbourhood park? If someone is keen on a great budget or civic investment initiative, what might they be willing to see cut elsewhere to keep the books balanced? Are they in favour of raising taxes to afford more or enhanced municipal services?
Capping taxes might be good, but what if it means cutting services?
"How are you able to provide me with the services I want without gouging me?" asks Miljan, a keen observer of local politics.
Article content
Experience matters, she and others say, and that includes previous community engagement, including involvement in non-government agencies and/or participation on the many municipal advisory agencies and committees hungry for volunteer members.
"Past practice is an indicator of future performance. What experience are you bringing to the table?" said Sheila Wisdom, who served as a city councillor from 1989 to 1998. "What do you see as the biggest issues for my ward and for the city, and how will you address those?"
Wisdom, executive director of the Windsor Symphony Orchestra and former small business owner, said social media didn't exist when she was a politician. Door-knocking was "absolutely essential" then, but she doesn't know how big a factor it remains today.
Article content
Even if there's no knock on the door, Miljan said voters can use a candidate's email or social media to reach out to a candidate with their questions. If there's no response, she and others say, that might be a good indication of how they'll respond in the future if elected.
Miljan said she'll "troll on social media" to find out more about a candidate. Another way to get more informed is to ask a friend or neighbour with a lawn sign why they're supporting that candidate.
Unofficial candidate list for 2022 Windsor municipal election released

Disappointing voter turnout signals voters are happy with leadership, says prof
If it's an incumbent seeking re-election, "I'll ask, 'What's your record? What did you achieve? Give me specific examples,'" said Emmanuelle Richez, another University of Windsor political scientist. And any examples cited, she added, should be the individual's accomplishments, not council's as a whole.
Wisdom said a candidate able to list endorsements by "people with stature in the community" carries a lot of weight for her.
Only 35 per cent of Windsor's 151,000 eligible voters cast ballots in 2018, which makes each actual vote count more. One ward candidate won his seat on Windsor city council with less than a thousand votes.
"Municipal government is one of the most accessible forms of government, and we have opportunities to take advantage of that," said Wisdom.
One of those is to simply cast a ballot on Oct. 24.