Five things the Saskatchewan Roughriders must do in order to defeat the host Montreal Alouettes on Thursday night.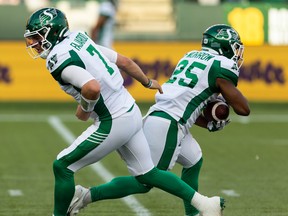 Article content
MONTREAL — One of Canada's best cities to visit has long been Montreal, but please excuse the Saskatchewan Roughriders if they are less than thrilled with the timing and circumstances.
Article content
The Riders are to meet the Alouettes at Percival Molson Stadium only five days after defeating the host Edmonton Elks 26-16. The Green and White had only one full practice between road games.
Adding to the challenge of the short week is veteran centre Dan Clark being sidelined indefinitely due to a broken right fibula and a shifted ankle bone that he suffered late in the Riders' win over the Elks. Logan Bandy replaces Clark.
With the challenge of a short week and a rookie at centre, here are five things the Riders (2-0) need to do in order to beat the Alouettes (0-2).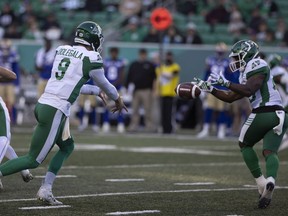 GIVE THE BALL TO JAMAL
Jamal Morrow had 17 carries for 126 yards — surpassing the century mark in rushing yards for the first time in his CFL career — in the win over the Elks. Frankie Hickson added five carries for 32 yards while giving Morrow a breather. Morrow averaged 7.4 yards per carry and Hickson averaged 6.4. The presence of Morrow and Hickson should allow the Roughriders to run the ball against Montreal, which has allowed an average of 5.0 yards per rush over its first two games (both heartbreaking losses). Emphasizing the run will also allow Bandy, a first-time CFL starter at centre, to charge off the ball and quickly get in the flow of the game.
KEEP IT SIMPLE
The Riders will likely keep the game plan rather basic to help Bandy deal with the responsibilities of quarterbacking the offensive line. Bandy, a fifth-round selection (38th overall) in the 2021 CFL draft, returned to the University of Calgary after attending the Riders' training camp last year. This year, he had repetitions at centre during training camp and impressed the coaches. However, Bandy has yet to face defensive tackle like Almondo Sewell — an 11-year CFL veteran and seven-time all-star who has 65 career sacks — in a live game.
Article content
LEAN ON DEAN
Larry Dean is a key part of a formidable trio of linebackers. Dean, who missed the 2021 season after suffering a torn Achilles tendon in a pre-training camp workout, leads the Riders with 14 defensive tackles and is second with two sacks, one behind teammate Pete Robertson. Dean also forced a key fumble late in Saturday's game. Dean had played middle linebacker throughout his four-year CFL career, but has made the adjustment to the weak side with Micah Teitz on the sideline. Dean, middle linebacker Darnell Sankey and strong-side linebacker Derrick Moncrief, have all had an impact in their own way in just two games. Moncrief, for example, has an interception in each game.
PREVENT PENALTIES
A penchant for penalties is a carryover from 2021. Saturday's penalty parade was particularly frustrating for head coach Craig Dickenson, whose Riders lead the CFL in penalties (23) and yards penalized (219). The Riders were flagged 14 times for 134 yards, whereas the Elks were penalized six times for 55 yards. Moncrief was ejected in the third quarter after taking three consecutive objectionable-conduct penalties, one more than is required for expulsion from the game. Offensive tackle Na'Ty Rodgers had three holding penalties and was also flagged for objectionable conduct. Dickenson has threatened to reduce playing time if the penalty plague persists. It's a drastic step, but one that should prove necessary if the Riders continue to give away field position with the incessant infractions.
Article content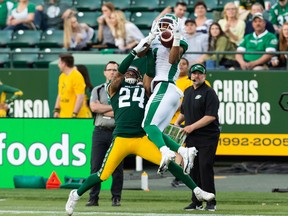 ATTACK WITH SHAQ
Star receiver Duke Williams, who missed Saturday's game with an ankle injury, is listed as a starter for Thursday's game. However, the Roughriders should avoid overusing Williams, especially with the luxury of a nine-game break before Saskatchewan and Montreal meet again July 2 at Mosaic Stadium. If Williams needs a breather Thursday, Mitchell Picton — who caught the game-winning touchdown pass on Saturday  — has proven to be worthy of the extra responsibility. Shaq Evans has regained the form he showed in 2019, when he registered 72 receptions for 1,334 yards en route to being named a CFL all-star. This year, Evans is fourth in the CFL in receiving yards (173) and is averaging 19.2 yards per catch. With Williams still not far-removed from injuring an ankle, the timing is optimal for the Roughriders to continue emphasizing Evans — with one objective being to end his touchdown drought, which has extended to 16 games.
The sports world is ever-changing, as are the times. Supplement your steady diet of sports coverage by subscribing to the Regina Leader-Post's 306 Sports Fix newsletter. Each week, sports editor Rob Vanstone will provide additional commentary on the Roughriders, Pats and other teams/sports of interest, along with a peek behind the curtain. Click here to subscribe.