The StarPhoenix spent time with two sisters from Afghanistan who came with family members to Saskatoon after the Taliban returned to power.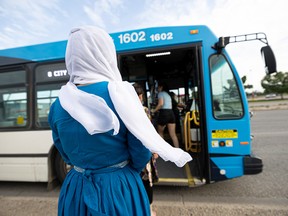 Article content
One year ago, refugees fleeing Afghanistan started to arrive in Canada, some coming to Saskatchewan. The country had fallen a month earlier to the returning Taliban, stripping rights from a generation of women who came of age in a society without the regime.
Article content
Since January, the StarPhoenix met with two sisters, Rejna and Shakiba Ahmadi, whose family members left Afghanistan shortly after the fall. 
Article content
They, their parents and their brother made Saskatoon their first home in Canada. This is their story.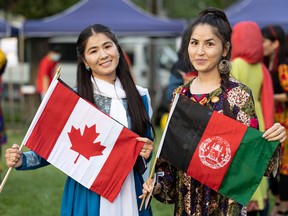 WINTER
Zubida Yousfi prepares bulani in the kitchen. When it's time for sisters Rejna and Shakiba Ahmadi to help, they take pieces of dough from their mother and pat them flat.
They put the flattened dough into a pan, where it puffs up as it cooks.
Outside, it's a cold mid-January day, and the women greet two visitors from the newspaper warmly.
As they work, Shakiba, the younger of the two sisters, shows YouTube clips of their younger sister, a member of the Sound of Afghanistan (SA) musical group, who lives in France.
Article content
Many female members of the SA group came to Canada, Shakiba says. The group would travel to different parts of Afghanistan to perform, but the Taliban does not allow people to sing.
Shakiba translates for Rejna and insists it's not her story but her sister's they want to share. Rejna, 25, and her family arrived in Canada three months earlier.
Canada is a good country, she says through Shakiba. Women are allowed to work and go to school and have rights. The people are kind, and they feel secure here, she adds.
Shakiba explains that they felt similarly secure in Afghanistan until the Taliban returned.
"Suddenly, everything was done," she says.
When the capital city of Kabul fell to the Taliban in August 2021, Shakiba was a university student close to finishing her psychology degree, and Rejna worked as a teacher. They were in shock, she says.
Article content
Her family remained in Afghanistan for a month, hoping the situation would change.
Their eventual exit from Afghanistan involved travelling to other cities and passing through armed Taliban checkpoints to wait for an international flight, which was unavailable. It took another two weeks before they crossed the border to Pakistan by car.
The sisters had only their backpacks with clothes. They could not bring documents or computers; they closed social media accounts and deleted photos from their phones. They stayed for 28 days in Pakistan before coming to Canada — Rejna, Shakiba, their parents and one brother.
In Saskatoon, staff of the Saskatoon Open Door Society helped them settle, taking them to medical appointments and assisting with housing.
Article content
By January, Rejna found work babysitting, but she's looking for a second job.
When the bulani is ready, the family sits down to eat together.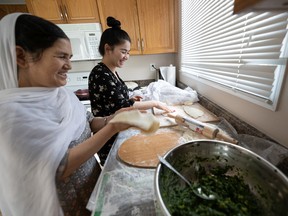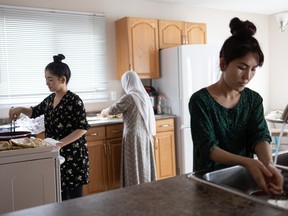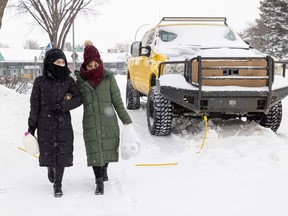 SPRING
By mid-May, Rejna was newly engaged. A man she knew from home proposed to her over Zoom. She met M. Jawid Shoja when they worked together in Afghanistan and had known him for more than a year.
Through Shakiba, she says her fiancé is beautiful, strong, and hard-working.
They have not set a wedding date because it's unclear when Shoja can come to Canada. Shakiba said it could be anywhere from two to four years. They stay in touch over social media.
"I miss (him) a lot," Rejna says.
After the engagement, dozens of people came to their home in Saskatoon to celebrate.
Rejna wore beautiful clothes gifted by Shoja — a handmade dress and a striking green and gold scarf, which has a special meaning. When the groom or his mother puts this scarf on the bride for the engagement, it symbolizes her becoming the groom's wife. After the wedding, wearing the scarf will signify her leaving her parents to live with him, Shakiba says.
Article content
Recently, the sisters started working at a seniors' home in Stonebridge as food servers in the main dining room. They enjoy the work and have made friends with the residents.
The warmer spring weather allows them to spend more time exploring Saskatoon, including the Forestry Farm Park and Zoo.
The sisters have missed a milestone. Their brother's wife had a baby in April while living in France. The last time they were together was celebrating his elaborate wedding in Afghanistan with 1,500 guests.
That was a week before the Taliban seized power.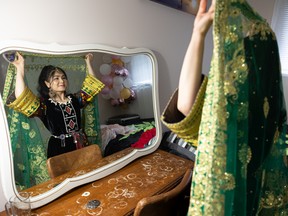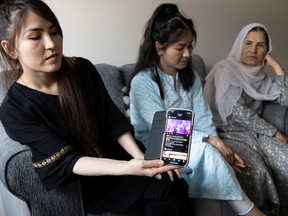 SUMMER
On a warm day in early August, Sepideh Oveysifar pulls into a lot on an acreage south of Saskatoon with Rejna, Shakiba and their mother.
She works as a case coordinator with Global Gathering Place, a non-profit that offers settlement assistance and programs for newcomers. She is fond of bringing clients here to harvest fruit from sour cherry trees.
Article content
The four women fan out, reaching into the branches in search of the ripest cherries. Rejna says they must be large and have no worms in them. She points to one that is too small, then to one that appears dehydrated, before picking a plump one for her basket.
There are cherries in branches too high up for anyone to reach without a ladder. They remain untouched, ripened to a deep red.
It's here that Shakiba shares that their family is moving to Toronto at the end of the month, and from there, they will move to another city in Ontario.
It's something their father wants, she says. They have relatives in the Toronto area.
Shakiba says they've had a good experience in Saskatoon. She had her first job here; she was still a student in Afghanistan. The sisters enjoyed being here in the summer, attending events like the Fringe Festival when they weren't busy working.
Article content
She is not sad or happy to leave but feels unsure of what will happen in Toronto, she says.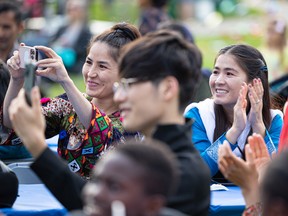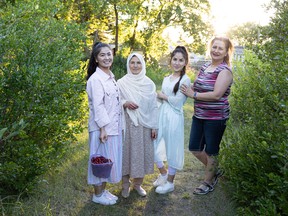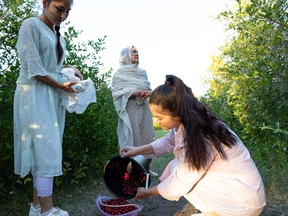 FAREWELL
On a cloudy Saturday at the end of August, two taxicabs pull up to the drop-off area in front of John G. Diefenbaker International Airport.
The Ahmadis begin to unload suitcases onto the sidewalk. Rejna and Shakiba wear matching orange T-shirts.
Their feelings about leaving Saskatoon have changed — Rejna says they feel good about the move. Last year, they had no choice about where they lived in Canada. Now, they know what they want to do in the future.
Rejna and Shakiba plan to return to university — Rejna to study nursing and Shakiba to study psychology or nursing. Shakiba, now 23, says she was inspired to consider nursing after seeing nurses work at the retirement home.
Article content
Faced with leaving the city, Rejna says she will miss living in Saskatoon.
"We know we can come here," she says, adding it's still unclear if they will ever return to Afghanistan.
At the airport, on their way to the security gate, they are greeted by a group of young people from Afghanistan, there to meet newly arriving Afghan refugees that evening.
Friends like Maryam Masoomi, who hosts a radio show on CFCR featuring music from Afghanistan, rush over to say goodbye to the Ahmadi family.
Rejna and Shakiba give a hearty wave to the people who have gathered to see them before they continue through the gate.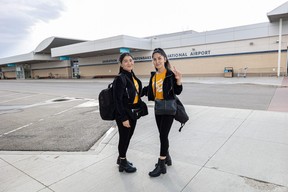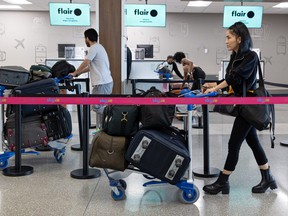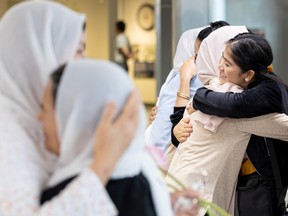 Photos by Michelle Berg, Saskatoon StarPhoenix.
Couple from Afghanistan who were prosecutors pre-Taliban, arrive in Canada to start new life

Back on the airwaves, Maryam Masoomi presents the music of Afghanistan to Saskatchewan

'They'll be change-makers': Afghanistan students at Nutana Collegiate reflect on journey to Saskatoon
Want to know how we decide what to cover and how editorial decisions are made at the Saskatoon StarPhoenix and Regina Leader-Post? Get the weekly Letter From the Editor newsletter from the Editor in Chief Russell Wangersky and join the discussion on what goes into covering news and delivering commentary, both in print and online. Click here to subscribe.